The Home-Based Executive
Home-Based Executive Franchises: the phrase alone just seems full of promise that you too can be a professional who earns a great salary and a promising future whilst working from the comfort of your own home and in whatever business you wish.

We know that this is indeed an exciting franchise industry and that there are many franchise packages that promise all of the above and so much more. That said however, we know that the truly successful franchisees are those who enter this realm full of realism and positivity in equal measures; as such, here we prresent an overview of both the advantages and disadvantages of being a home-based executive.
The advantages of becoming a White Collar Franchise owner:
1. Home based white collar franchises cost less to set up – there are less overheads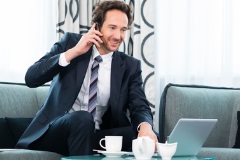 A white collar franchise is often home based as it is usually a professional service provided from business to business. There are fewer overheads such as rental for premises however the executive franchise can have an increased investment fee which sometimes will be due to the successful network that you will join.
For example the ERA Franchise is the UK and Ireland's leading Cost Management Consultancy Business. This is a franchise that is based from home however franchise owners become part of a collaborative franchise network which is reflected in the start-up fee of £39,900.00.
2. Franchise opportunities are promising… as long as the support from the franchisor is:
Franchise opportunities with this sector relies more so than any other sector upon the support of the franchisor. This places emphasis on the importance of researching your potential franchisor company; don't be afraid to ask too many questions around this area as this in itself is likely to give you insight into the company's responsiveness and approach to their franchisees.

Mailboxes Etc, for example, although not home based will support you as much as they can. The start-up cost includes all franchise fees, training, help with site selection, shop fitting expenses, legal fees, equipment, supplies and inventory. They will work closely with you to put together a business plan to suit your financial position and aspirations.
3. You will have the choice of being a business to business company, or business to Consumer Company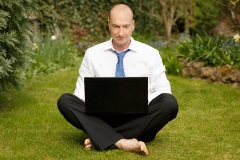 Few franchise areas are as varied when it comes to the format of the franchise and your end customer. This is then an area where you can deal with businesses or consumers, with this spanning over hundreds of types of service types. In either area your business is built upon relationships and having strong interpersonal skills is a defining factor for success.

Antal, for example is a business to business company. It is one of the world's largest and most successful privately owned international recruitment companies. The benefit of this franchise is that franchise owners network daily with each other. Franchise owners regularly add an average of 25% to their revenue through sharing clients, candidates and fees.
There is also Open House Estate Agents. This is either a home or small office based business. The Open House business opportunity has massively reduced overheads. This full 'turn key' estate agency franchise package provides successful applicants with a comprehensive training programme (including an industry recognised qualification) and structured business support systems, to enable franchisees to offer a full estate agency and tenant finder service.
4. You'll work from home
No more cold Monday mornings and early finish Fridays that benefit from an instant commute time. What could be better than working from the comfort of your own home? Well the answers to these may be in the first of our disadvantages of becoming a White Collar Franchise owner.
The disadvantages of becoming a home-based executive franchise:

Working from home does have downsides. In many ways the downsides to working from home are also the advantages.
1. You will work long hours
Your home space becomes blurred with your work space and you may find yourself working for longer than is productive and being unable to relax in what should otherwise be your sanctuary. You should certainly expect this with your own stand alone business. However by becoming part of a franchise a franchisor will train you into self-employment. You will receive assistance with regard to managing your time and workload by following the proven business model.
2. Finding motivation
You need to be great at motivating yourself, particularly on those cold dreary mornings where your bed looks extra comfortable. Although you will, as part of a franchise, have other franchisees to help you with motivation and advice.
3. You may feel isolated
Working from home, on your own, can be lonely, particularly if you choose a franchise that features very little phone contact with others.
However if you join a Franchise such as EaziLoyalty you can enjoy the following benefits:

low start-up costs and low ongoing costs
the flexibility of working from home and being your own boss
get paid for all your efforts rather than someone else
start earning quickly and also build a long term repeat monthly income
have the freedom to work to your own schedule
This gives you a perfect opportunity to find the right balance between work and home life as well as having EaziLoyalty right behind you every step of the way.
4. Working may never end
Similarly to having to motivate yourself, you also have to know when to stop. Not having a manager or a set finish time means that there is a potential to work right around the clock. However as you will find with most franchises, if you are willing to put in the commitment, determination and hard work you will reap from the rewards of a successful business.
To find out more about the right franchise for you have a look at our resource pages or alternatively search out categories of Executive Franchises to find the right franchise for you!
Executive franchises you might be interested in..