Starting a Franchise - The IT industry is rapidly growing - Reap the rewards of an IT Franchise
There are many reasons why people are increasingly going into business as a franchise owner, however one sector that has seen particularly impressive growth is that of the IT industry. Here we take a look at the reasons why IT franchises are so exciting right now and explain why, as a franchise owner, people are reaping both monetary rewards as well as promising future prospects.
Reasons why IT Franchises are just so exciting right now
1. The IT Industry is booming
It's no secret that industries relating to IT have been booming over the past decade, however now more than ever it seems that this growth is surpassing all previous precedents.
To put this into context the most recent statistics need to be considered: just under 44% of technology companies will be employing more people within the next 12 month and with the overall technology industry growing by 6.4% in 2013 things are certainly looking bright for IT franchisees.
2. The IT Industry is lucrative
So now you know about the growth of this industry, but the all-important question is whether there's money to be made and if so, how much exactly. To this end recent research shows that technology companies are reporting the fastest improvements in profitability for a staggering six years. Needless to say this is positive news indeed.
3. The IT Industry is amongst the few sectors that offer an assured future
Markets and industries change, this is a simple fact of business life. If there is anything the recent financial turbulence has taught us it is that few markets are safe from dramatic change. That said, the IT industry is widely regarded as a market that will see growth year on year for the foreseeable future.
Why becoming a franchisee is attractive all round
Regardless of industry, becoming a franchisee has many benefits with just some of these being:
You are your own boss. You decide how and when to take your business forward and you are in control of your future.
Given the number and range of franchises there is something to suit everything from the modest budget.
You potentially benefit from a nationally recognised brand name and are provided with support, marketing advice and products (depending upon the franchise type).
Choosing the right IT Franchise for you
Realising that you don't need experience
One thing that potential franchisees may be wary of within the realm of IT is whether they have previous experience within the sector. However there are a wide range of IT franchises that require no experience whatsoever, with all training being provided by the franchise company as part of the package such as Telecoinabox, and EaziLoyalty and so many more in our IT Category.
Scouring the IT Franchise landscape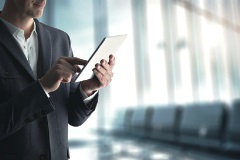 By far the most important piece of advice that we have for potential franchisees is to take their time in considering their options and undertaking thorough research. Because of the sheer number and range of IT franchises gaining a complete picture of the landscape will take time; however if you're to find the perfect franchise for you, that will guarantee your future, then it is more than worthwhile in taking your time through these initial tentative stages.
IT Franchises can serve as your one stop shop for practically every IT franchise in existence. Here you can learn about opportunities, contact franchise companies and compare your options side by side.
We can provide essential resource for choosing the perfect franchise opportunity. Learn more about franchising, check out the start-up resources. You will also find extensive franchise packages with unparalleled opportunities as well as plenty of help and guidance on getting started. To explore other franchises, why not start a search!