A Day in the life of Healthcare Practice Partner - Lorna Smith
"There's far more to being a partner with Healthcare Practice than selling insurance policies. With a mantra of 'treating others as you would hope to be treated, this ethical, not-for-profit company makes service to customers a way of life."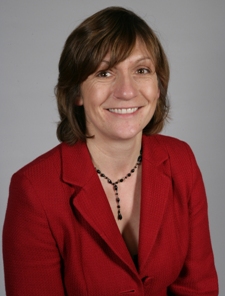 For partners this means getting to know their customers personally from the start, which means lots of networking. It's hard work but great fun, according to Lorna Smith, the Healthcare Practice partner for Reading and Newbury. Here Lorna outlines her typical day.
5.30am: Up early to get ready for a breakfast networking meeting at 7.15. This happens three days a week – other days I start later.
I belong to several networking groups in Reading and Newbury. You meet a wide variety of people offering services such as business coaching, IT services or financial advice, usually working alone or running small companies.
After breakfast we each stand up and introduce ourselves and our business.
I usually focus on the fact that Healthcare Practice started locally – we trace our roots to a group of workers from Reading in 1901 who formed a savings club to provide themselves with sick pay, and Healthcare Practice maintains its customer-focused attitude to this day.
I like to mention that I'm a partner, explaining that though I enjoy the back-up of a nationally-known company, I'm still a business owner, just like them.
Often I mention something topical, such as the NHS or cancer treatment which are always in the news. My background in the NHS and in pharmaceutical sales means I keep up with developments. I explain to employers how the Healthcare Practice employee assistance programmes work, or how its individual policies can help small business owners when they need treatment at a time to suit them.
Sometimes it's my turn to give a more in-depth presentation about my business. Many people dread this but I like it. I try to include lots of useful information, to inspire people to remember me and pass my name on to their own contacts.
Once the formal session is over I usually stay on to meet people and find out more about them, and if possible arrange a one-to-one meeting later to discuss how Healthcare Practice can help them.
If there's a solicitor, independent financial advisor or accountant in the room I'll usually try to forge an alliance with them. Few of them offer medical insurance and many are pleased to find a specialist they can refer customers to. In return, I'll pass on their details to any of my customers looking for wider financial advice.
I know it sounds like a life of coffee and chat but it's more structured than that – I have a message to get across, and for me, this is the natural way to do it.
10am: I'm out visiting customers and prospects, usually referred by existing customers, but some come from referral leads from Healthcare Practice head office. I meet all kinds, including couples looking for individual policies, and companies looking for a cost-effective way to get key employees back to work from an illness more quickly or to give staff an extra benefit, such as a cash plan that helps pay optical and dental bills.
Sometimes I might be giving a presentation about Healthcare Practice's services to a company that has just bought a policy, so its employees know what new benefits they are entitled to. Other days I am presenting to a potential customer.
1pm: Lunchtime – usually a supermarket sandwich eaten in the car. I choose something healthy – it's important to look after myself as well as my customers!
1.30pm: Some days the afternoon sees me at a Chamber of Commerce event or another, less formal, networking meeting. Other days I might be meeting an independent financial advisor (IFA), accountant or solicitor, to see if we can benefit by swapping referrals. One of the things that attracts them about Healthcare Practice is that it only sells medical insurance, so I am not in competition.
3.30pm: Back to my home office to do some admin and check my 'phone messages and emails. I also check how my recently-employed account manager Christine is getting on. She helps with policy renewals, telesales and customer service, but I also make sure I talk to plenty of customers myself – Healthcare Practice is all about the personal touch.
Some days I meet my Healthcare Practice mentor. Healthcare Practice provides a mentor service to all new partners for their first two years. Mine is an experienced partner, who lives nearby, so we meet to talk about how the business is going. I can also call her anytime for advice, and it's great to have someone to talk 'shop' with.
Once a fortnight I attend a business coaching group which helps me keep on top of the business tasks I might be tempted to neglect if I was not chased up. Once every three months we spend a whole day planning our business goals. It's vital to stand back and take a strategic view regularly.
Fortunately Healthcare Practice is a flexible business so I can arrange my appointments around my family when necessary. Last week I was able to take time out to see my 13 year old son Matt run in an inter-county schools championship. I always try to keep the weekends free for family too.
5.30pm: Time to wind down. Usually I go out for a run with our border collie Jack, which clears my mind after a busy day. Then it's dinner with Matt and my husband Mark, and time for relaxing – unless I'm going to an evening networking meeting or visiting a customer.
Often I do a 12-hour day, but although when I was an employee I used to resent early starts, now I have my own business I don't mind at all.
Being a Healthcare Practice partner is not always easy. You don't win every sale, but with motivation and enthusiasm you can see yourself and your business growing at the same time.
To find out more about the Healthcare Practice click below
What

Our Franchisees Say

Attending an Open Day and seeing the slick and technologically advanced operation behind the scene convinced me I was making the right choice. By the time I left the Open Day, I had made up my mind that WPA was a company which lived the business values that matched my own.David Rollock – Healthcare Partner since September 2014

Attending the open day at Head Office was extremely useful and helped reassure me that I was perusing a good opportunity. It allowed me to learn more about WPA, meet a number of staff and experience the culture and transparency of the organisation. It certainly played a crucial role in my decision making process about becoming a Healthcare Partner.Catherine Bennett – Healthcare Partner since December 2014

My advice for anyone looking to become a Healthcare Partner is just do it! If there is a practice available near you then absolutely go for it. The training, the support, the help, the advice - it's been the best decision that I've made.Ross Le Jeune - Healthcare Partner since 2016
Why

Choose Us

A not for profit organisation that really cares about customers

Build a solid and sustainable long-term business

Award winning customer service
Related

Franchise Categories
Related

Franchise Types