Dream Doors Franchisee Pulls Out All Stops To Achieve Fastest Ever Showroom Opening
For Dream Doors franchisee Wilson Craig the main benefit of achieving the fastest showroom opening in the company's 20-year history is clear – 'We've had 75 enquiries in less than three weeks'.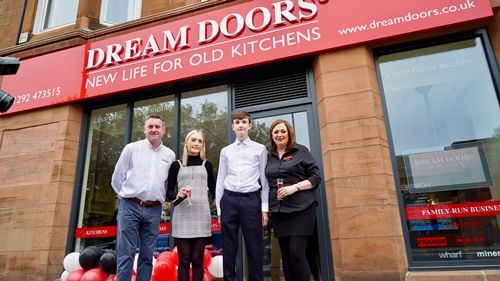 After completing his training in June, it took the former transport consultant just 31 days to formally open his kitchen showroom in his hometown of Prestwick by July 4.
Wilson said that he could have opened the store seven days earlier than that if his town's Provost had been available to cut the ribbon.
Wilson explained:
"Our showroom was actually finished and ready to go a week before our official opening date. The reason we had to push it back was to get an official here to cut the ribbon.
We turned this all around very fast so that we can start pushing the business forward and to get new leads coming in."
Wilson, who works closely with his wife Patrice, daughter Jenna and son Adam, found a showroom with 'wow' factor – an historic red sandstone building with real character in the middle of town.
Wilson continued:
"Some people might black out their windows while work is going on, but we kept them open so people could see what we're up to.
We chose an area that has a high footfall, so we've had lots of people who have come in since we opened, just to see how it all worked out. They've been driving by every day and seen the progress. There's also a bus stop across the road, so we've had lots of footfall - lots of people interested.
Storage has been the only sticking point in choosing this building, but we went for location over storage space – I can always rent more space later when it's needed. This has meant that in these early days of setting up we've been moving stock around a lot.
It's been a little bit like playing one of those tile puzzles – you have to move one thing at a time from storage into the showroom and then to the office.
Overall, the slightly limited storage space is outweighed by the prime location."
So, what other downsides have there been in setting up a showroom so quickly?
"We had some issues getting contractors in on time because we were on such a tight schedule, but we got there. The showroom set up was going on while I was on training so I had to travel back from Hampshire to be here over the weekends so I could move cabinets around and take in stock deliveries.
This meant some really long hours and I basically only had one day off in a month, but I know the importance of getting this done."
So, after wading through all this work in such a short space of time, what are the upsides to the quick turnaround?
"We've had 75 leads since our official opening, so that speaks for itself. It's good for our business to have a high street presence – it's much better than having to work out of a van.
I spoke to someone the other day who just wanted new doors at first, but then he came into the showroom and he saw the quality of the Wharf seamless worktops and he ordered one. That wouldn't have happened without the showroom."
What advice would Wilson share with anyone planning their own quick opening?
"You've got to plan it out. I'm an experienced project manager, so I know that you have to set critical points to hit by certain times. But other things can be moved around to fit and make the schedule work.
My top tip would be: 'Don't panic – whatever the problem is there will be a solution – and that solution should teach you a good lesson for the future too.'
It's also much easier when you are part of a franchise like Dream Doors as there is so much support readily available."
There are just 19 new franchise territories available nationwide, particularly in the North East, North West, Yorkshire and Scotland.
Find out more about opening your own Dream Doors showroom by clicking below
What

Our Franchisees Say

The training and support has been fantastic and has really reinforced the fact that we made the right decision. The initial training was really helpful and there have been plenty of visits from the Franchise Support Manager to keep us on the right path.Helen Mahon

If you want to work for yourself and have more flexibility, I would recommend a Dream Doors franchise. Also it's good to know that you can run your own business, but still have the back up of a national company.Matt Jones

Everything about the franchise works as it is written in the manual and, in your early days, this is important while you learn the business.Paul Reeder
Why

Choose Us

Industry-leading training and support

13-week induction programme – covering all aspects of running a successful business

Potential to achieve MORE THAN £1MILLION in yearly turnover
Related

Franchise Categories
Related

Franchise Types