Betterclean Services Franchise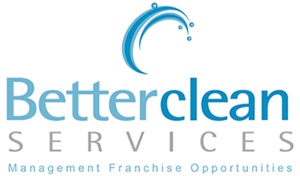 Enjoy the returns from building your own Betterclean Services Business in a £6bn marketplace
Betterclean Services offer a rewarding Management Cleaning Franchise opportunity for smart investors wishing to combine their commercial skills and experience. Betterclean Services Business owners can benefit from:
Strong ROI from recurring monthly income

Security and scalability of B2B contracts

The lifestyle of a director: work

on

your business, not

in

it
Royalties scale down from 5.75% to 2% as you scale up
Stable marketplace regardless of politics!
Building a clean asset to sell in the future
Betterclean Services Business owners employ their own management team to oversee service delivery. A typical established operational structure looks like this:

The Benefits:

In a thriving market, you need the right tools to stay ahead of the competition. That's exactly what their modern, professional brand and systems, designed by ex-franchisee and Betterclean MD Dan van Kuyk, deliver:
Telemarketing which targets
clients in your territory
– at no cost to you

Dedicated business
development support from
head office

Minimal admin time thanks to their
cloud-based bespoke BMS, Bliss

Management service fees
scale down to 2% as you
scale up, maximising your
returns

YOUR business owns
your contracts and
you set the terms
– not them

A network of like-minded
director-level business
owners sharing
experience
Financials:
Enjoy the returns from building your own business in a £6bn marketplace which includes retailers, supermarkets, offices, GP surgeries, schools and much, much more.
Potential £1m+ turnover per territory
Average net profit margin 20-25%
Total investment from £45K + VAT
Royalties scale down to just 2% of sales as your business grows
With BCS your route to achieving your financial goals is tailored around your personal objectives, experience and available resources. Although franchise owners share a common goal, the route each takes is entirely personal to them.
Betterclean Services work with you to define your plan and then support you in enjoying the journey to building your own director-level business.
The Betterclean Services Franchise Model:

Some franchises tell you they'll 'guarantee income' – what they don't say is that you'll generally pay for the privilege. Practices such as paying for each contract (effectively buying a job, not developing a business), short-term arrangements which expire quickly, and the profitability of contracts arranged by someone else can all make an attractive offer quickly turn into an ugly reality.
That's why the Betterclean Services' model is clear: franchise owners own their local contracts, not head office, and negotiate directly on the terms they agree to. On top of that they provide national account customers to franchise owners in their exclusive territory, meaning you get the best of both worlds.
Is a Betterclean Services Franchise for you?

You'll need to be a leader, commercially astute and possess great people skills. Successful Betterclean franchise owners come from highly diverse backgrounds, including:
Entrepreneurs adding to their business portfolio
Senior sales managers and directors from a wide range of sectors
Ambitious professionals from sectors including accountancy, banking, HR and law
Senior managers from the public sector
Ex-military officers
That's highlighted by the previous careers of some of the top-performing franchise owners…
Simon
Luget
Sylvie
Botquelen
John & Linda
Goodyear
Caroline
Spiller
Chris
Cook
If you see a profitable future in a lucrative and growing marketplace, and have the B2B skills to achieve your ambitions, then the Betterclean Services Franchise want to hear from you!
Find out more about the Betterclean Services Franchise, the successful and lucrative Commercial Cleaning Business. Click the button below now!