Growing a Business in Auditel
In stark contrast to many of his colleagues who spent years in the corporate rat race, Stephen Heathcock joined Auditel almost straight from university. His father, John, had bought an Auditel franchise expecting imminent redundancy but then found out his job would last another 18 months. He offered Stephen the opportunity to launch the business in his stead and, nearly 20 years later, his company has been valued at £1 million.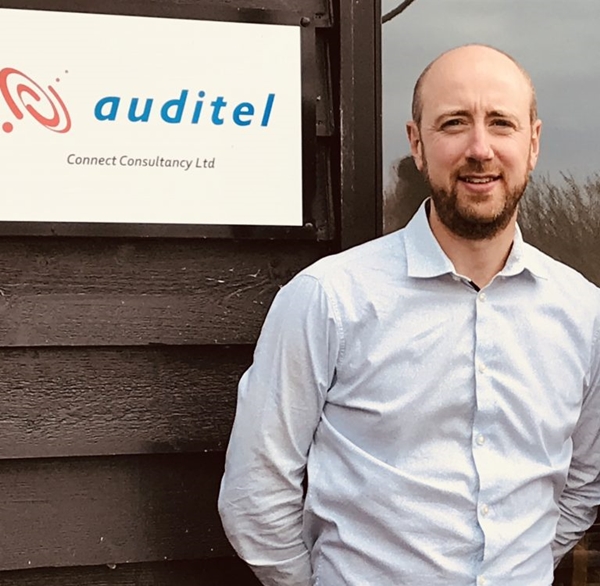 "After graduating from the University of Portsmouth with a degree in Geography and Economics in 2000, I took a sales job with an energy supplier. It was by no means a dream job so when my father suggested I take the lead with his Auditel business, I thought it was worth giving it go. I trained at Auditel's head office in August and got straight to work. The initial training has obviously changed since then but the one thing I found most useful is still happening today – it is delivered by practising affiliates. I had no prior experience but even the most experienced of professionals is going to be missing some knowledge or skill which the training or ongoing support can provide. I never saw my lack of experience as a negative, it made me hungrier for success.
We launched with an office – albeit a broom cupboard – and planned to grow a team over the years to create a sustainable business. I had been with my wife, Rachel, since high school and we both wanted to secure our careers before starting a family. My first goal was to be able to take home a salary of £35,000 a year from the business – that seemed like an amazing amount of money at the time.
It was a challenging role to begin with. As a business owner, I was also the credit controller, the salesperson, an analyst and account manager. After 12 months, we had signed a few clients and the business began to go places. By year three, we were turning over £64,000 – I was enjoying the partnership opportunities the network and the rewards that afforded us."
Joint ventures with other Auditel Consultants are what Stephen now pinpoints as the single most valuable part of the Auditel franchise. Some Consultants choose to secure contracts with clients and then enlist the services of cost category specialists in the network to deliver the work.
"Our team of 12 manage procurement projects for over 100 clients, some of which is referred to us by Consultants in the network.
The support from Auditel was instrumental in our success in the first few years. As my team began to expand, I decided I wanted to give back to the network. Just as I'd benefitted from the training by practising Consultants, I began to deliver the energy training for Franchise Partners new to Auditel. The support is still available to me from Auditel's team at head office but it's my team who really benefit now from the relationship rather than me. It's a credit to my team that we were recognised as the top performing Auditel business at their latest annual conference, receiving the Highest Income Award (Practice)."
Stephen is the first to admit that procurement wasn't his passion even though he has come to love the business over these last two decades. In his spare time, he'd rather be mountain biking in some tough terrain.
"I've taken many holidays to places like Morzine, Whistler and the Alps to be able to enjoy the physical challenges and freedom you feel out in the open air. In fact, that's what started my interest in owning a bike shop which quickly grew to be a life goal. In 2014, the success of my Auditel business allowed me the flexibility and finances to fulfil my ambition, opening C6 Bikes in Cambridge. Five years on, I have two people running the shop for me while I spend about one day a week managing the business. Because I can spend this little bit of time on a passion project, it gives me a renewed dedication to growing my Auditel business.

My Auditel franchise, based in Ipswich, has recently been valued at £1 million but my plan is to take it much further by reaching £1 million annual turnover. This year, we hit £550,000 with 40 per cent net profit. My five-year plan is to double the size of the business, investing in the staff and premises to make that a reality."
Even though Stephen has built a mature business, he hasn't neglected family life. He and Rachel have two children, Luke and Lucy, who keep them both busy. Luke shares another passion of his dad's in supporting Ipswich Town football club.
"You can often find me ferrying Luke to training with Cambridge United's development team. It's really important for me to spend time with my family and that's another benefit of my Auditel business. My father is technically retired but still keeps his hand in as our Financial Director. It will be some years before I look at retirement myself although I do have plans to bring in a Managing Director which would be one step towards an exit plan.
It's rare to start your own business straight out of university or without significant work experience but franchises like Auditel mean more young professionals are choosing that route than ever before. I can't imagine my life having done anything else."
The Auditel network is made up of over 100 Franchise Partners who have differing levels of career experience when they join us. One thing they do share, is the desire to control their own future and build profitable, scalable businesses with real longevity.
"The Auditel model is truly scalable – that's why we've ended up heading for a million-pound turnover business."
To find out more about how Auditel can help you achieve the career you want just click below
What

Our Franchisees Say

"I started my Auditel business with training in October 2022 and already by the end of the year I had secured my first client, with two more proposals out for imminent decisions and have another twelve prospective client meetings in the diary over January and February." Julie Adams

"If you have the drive and determination to succeed in banking, you will succeed with Auditel" Gordon Brearley

"I've got a stable, profitable business with a great team behind me, and financially I am in a better position than I would be if I was still in full time employment." David Kendall
Why

Choose Us

Develop a personal income stream that can exceed £200,000 per year

Leave behind the corporate world, politics, wasted time and commuting

Have a better work/life balance where your business works for you
Related

Franchise Categories
Related

Franchise Types