Marketing At Aspray: George Masterton's Impact In Peterborough
Working under the banner of an established and reputable brand is one of the main attractions to owning a franchise business. The idea is that you can begin trading straight away as customers will recognize your service straight away. Aspray's brand awareness has increased significantly in the past few years and a good working relationship with our franchisees has definitely been the key.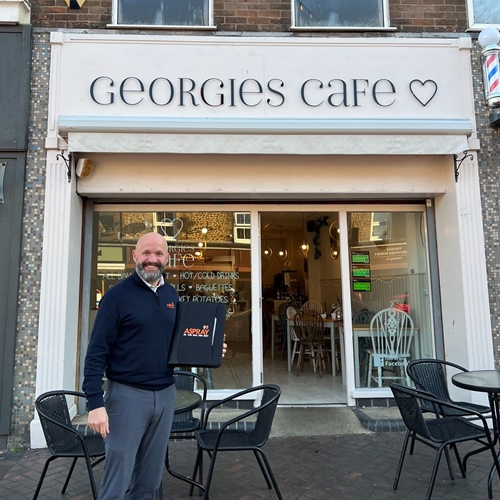 George Masterton of Aspray Peterborough has been an example of a franchisee who has been able to hit the ground running straight away with a ready-made presence in his territory. However, he has made an additional impact by utilizing the tools and materials offered at Aspray to further promote his business.
George's advertising campaigns spread across a few key channels that we implement in our corporate marketing strategy. The results are a glowing brand presence with George Masterton seen as the go-to person in his territory for all things buildings insurance related.
Peterborough United
Football sponsorships can be tricky, with a big risk of a brand getting lost whilst attempting to rub shoulders with corporate sponsors such as banks, tech companies and fast-food giants. It takes something special to stand out from the crowd and that's exactly what George delivered with Peterborough United.
At certain intervals of a game in the 22/23 season, Aspray Peterborough's brand and messaging would appear on electric, motion graphic signs around the football pitch. Flashes of orange and white surrounding the players would be noticed by up to 15,000 at the Weston Homes Stadium.
In the clip below, George's advertising signs can be seen in all their glory (it's just a shame for George that the opposition scored at the time!).
Brampton Park Golf Club
Formally a Director at Grosvener Group, amongst other senior positions, George is accustomed to strategic discussion, negotiations, and networking. And where better to discuss such topics of business? It could only be the golf course!
George is a member of the Brampton Park Golf Club and always appreciated how popular the venue can be amongst professionals in the insurance industry. While inviting members of his networking group for a round of golf, Aspray Peterborough's branding can be seen in different areas. This includes the driving range, the Golf Club website and even hole number 1 on the course. George himself sometimes wears his own Aspray branded golf apparel for these get togethers.
This is an easy sponsorship for a franchisee. To tie in a hobby or favourite past time with sponsorship is always effortless and a pleasure to be involved in. It is also a way for George to give back to a club that he has been part of for many years.
Case Studies and Interviews
George naturally aligns with our core values when meeting with policyholders to manage their insurance claims. He is attentive, transparent and follows through on his arrangements. As a result, he builds up a fantastic rapport with all of his customers who have all been eager to say great things about him.
Recognising the opportunity, George would politely ask his customers if they would like to film a video interview about their experience with Aspray Peterborough.
So far George has created a dozen video interviews from his claims, each featuring a dazzling review and a deeper analysis of the service he provides. From large escape of water claims to extensive fire damage claims, George the customer experience brilliantly.
These videos are posted on his personal LinkedIn page and his Aspray Peterborough Facebook page. Anyone looking to research the Aspray service in his area will come across these customer interviews and can begin to decide on using Aspray.
Support from your franchisor
These various marketing campaigns that George has invested in have been facilitated with the support of a Head Office based marketing team. While running his franchise business, George has the support of a 24/7 claims team, an accounts team and of course a marketing team.
Any materials and resources required by George can either be created from the ground up, edited, or picked out ready-made from a wide selection. This includes video graphics, logos, flyers, banners and merchandise.
Joining in 2021, George Masterton and Aspray Peterborough have since gone from strength to strength. Aspray's brand continues to grow at a national level, however George sets a great example of how to expand on local presence.
Find out more about franchise opportunities with Aspray by clicking below
What

Our Franchisees Say

It's seeing people satisfied, happy and resolved and knowing that over the ten years you've helped people get back to their life. You see the homeowner, or policyholder satisfied and smiling, or you that the claims has caused them the minimum inconvenience, that's what you have achieved for them.Roy Bowen

Since the start, I have taken part in the peer-to-peer support offered through head office. I feel it's important to be engaged and involved with this type of support. I don't want to see people in the network struggle and at the same time, it allows me the opportunity to learn and grow from others that do the same job in different ways.Jack Parkhouse
Why

Choose Us

Work From Home

Exclusive Territory

Established and Proven Business Model
Related

Franchise Categories
Related

Franchise Types