From Signs Express Centre Manager to Franchisee!
5th October 2023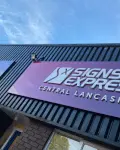 We're thrilled to announce the completion of another internal sale, which sees Centre Manager, Matt Rutlidge take ownership of the Signs Express (Central Lancashire) franchise, completing the acquisition on Tuesday 3 October 2023.
Working within the Signs Express network for the past 14 years and taking the role of Centre Manager four years ago, we're delighted to see another Signs Express team member go from strength to strength, eventually taking the leap into becoming a centre owner and Signs Express franchisee.
Hearing from Aaron Davis, Signs Express Network Development Director, he says, "We're over the moon to see Matt join us as a franchisee and business owner, he's a fantastic individual with a wealth of industry knowledge and experience. He brings with him an exemplary work ethic and passion for the industry along with being a big advocate of the Signs Express brand. We're excited to see where Matt can take the business in the coming months and years!
We'd also like to say a big thank you to previous owner Ben Hall and his family for creating such an incredible business over the years, we wish you all the very best for the future."
As the UK's leading signage and graphics business we pride ourselves in delivering a local service via our 60+ locations and 30+ years of experience. Whether you're looking for bespoke vehicle graphics, exterior building signage, wayfinding solutions, exhibition branding, interior graphics and solutions and much more, we're here to offer an engaging and consultative service with quality craftsmanship.
We hear from Matt as he starts his new business venture, "After 14 years with Signs Express and working as Centre Manager for the past four years, I am thrilled to announce that I am now the proud owner of Signs Express (Central Lancashire), serving the local areas of Preston, Blackpool and Blackburn. I'm fortunate enough to have fantastic relationships with the majority of our customers and suppliers already, however I'm excited to spend the coming weeks and months reaching out and speaking with many more local businesses to see how we can work together.
I'm extremely passionate about what I do and with a dedicated, experienced team around me, we're excited to see where we can take the business and continue to explore and push the boundaries of what we can create for our local communities and beyond."
If you're looking for a new challenge and would like to work in a creative and innovative industry, this may be the franchise for you…
Working in a creative industry where no two days are the same, Signs Express offer a franchise with a difference with expansion opportunities for driven and ambitious individuals looking for a new challenge. With opportunities to join our network via established resale opportunities, or via prime location start-up sites, we offer you the opportunity to shape a business that suits you, in your chosen location.
We are looking for the following qualities:
Business management experience
Natural sales flair
People & team management experience
Creative interest
Problem solving abilities
Personable & hardworking
Have you got what it takes to start your Signs Express career today?
When joining Signs Express, you are joining our family. Everyone plays a role. For that reason, we have a rigorous selection process and are very selective, as the opportunity must be right for you as much as it is for us…we want you to be a success and our support will be with you to make that happen!