Established Resale Business for Sale: Signs Express (Huddersfield): New Asking Price
8th June 2023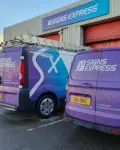 New Asking Price: £150,000
Turnover: c.£200,000+
Profit Potential: c.20% EBITDA
Trading for over 15 years, Signs Express (Huddersfield) presents a new owner with an established, well-respected business, with a loyal customer base, thriving territory and an impressive client portfolio, with the opportunity to achieve £500k+ turnover and an impressive ROI.
With a new asking price of £150,000, we talked to current centre owner Martin Davis about the benefits of buying a resale business and also what you can expect from your investment:
"Overall, it's a great centre and provides a great lifestyle and work-life balance. You can expect to work hard, problem solve on your feet, be prepared and accountable and enjoy your weekends to yourself. Working in a consultative and creative environment creates an engaging and fast-paced atmosphere where no two days are the same. The centre is a solid investment with a profitable bottom line with plenty of scope to double turnover for an entrepreneurial and driven individual.
It's such a fantastic industry to be involved in, a varied and diverse approach means every day is different. You get the chance to be creative, problem solve, meet new people and you learn so many skills, (I'm still learning 15 years on). Seeing that 'wow moment' on customers faces as their final product is installed makes the hard work all worth it and seeing your work come to life in your local area is just such an uplifting feeling."
With a wide-ranging portfolio of customers, we look at some of the key projects Signs Express (Huddersfield) has delivered this year:
Kelcol Beds: Vehicle Graphics (April 2023)
Signs Express (Huddersfield) were approached by Sophie at Kelcol Bed Company Ltd, who was seeking guidance on branding options for their large Luton body vans. With a brief that required graphics to be simple yet highly eye-catching and also affordable, they presented three design solutions to offer the customer choice. Once they'd consulted with the customer a decision was made on the final graphics, which were then applied by their expert fitters in their environmentally controlled vehicle bay to ensure graphics were installed under the correct conditions for best performance and longevity.
On receiving the vehicles back at their premises, the customer commented, "We are thrilled with the outcome. I will be in touch regarding our other vehicles in due course."
PC Specialists: PC Graphics (February 2023)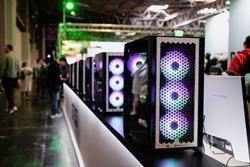 Known for manufacturing bespoke high specification gaming PCs, PC Specialists contacted Signs Express (Huddersfield) to produce and apply vinyl graphics to the side and fronts of 60 PCs for an international gaming event. Their recommendation was a matt overlaminate to be applied to the graphics to avoid glare for users when sitting in front of the PCs for long periods of time, these were all delivered to budget and well within the requested time frame.
Robbie from PC Specialists said, "We've been really pleased with them (the PC graphics), so thanks again for your support here. I may have some more requests soon… Will send it over once I have confirmed the details!"
Discussing opportunities to grow the business, we hear from Martin, "Having run the centre for over 15 years and nearing retirement, I'd say we've been reactive rather than proactive in the last couple of years. Whilst it is a solid, profitable business, with steady turnover and a good work life balance, there's room for a new, enthusiastic owner with drive and ambition to take a more proactive approach to business.

By chasing more leads, working smarter with existing customers, expanding the industries we work within, along with our portfolio of projects, there is so much potential. Much to the dismay of the marketing team over at the Franchise Support Centre, we also don't proactively market ourselves or engage in social media, so this leaves a huge area for growth."
As a franchise with a difference, Signs Express offers new franchisees the chance to join an award-winning network in a creative and dynamic industry where no two days are the same.
Speaking to Martin about the benefits of a franchise, he says, "The support has been remarkable. The Franchise Support Centre are there for you at every stage in your journey; this coupled with the support of 60 centres within the network has created a fantastic support structure allowing me to feel confident in my abilities and know that help is at hand whenever needed.
The brand is also invaluable, with over 30 years' experience in the industry and an outstanding reputation for quality and service, the Signs Express brand is widely recognised and creates trust amongst customers."
If this is a business opportunity that appeals to you, please get in touch to find out more by clicking below