Signs Express Franchise Opportunity In Liverpool & Wirral: All You Need To Know!
14th February 2023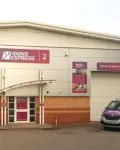 If you're looking for a new business opportunity in the Northwest of England, working in a creative and dynamic industry, where no two days are the same, Signs Express (Liverpool & Wirral) could be the opportunity for you.
Signs Express is the UK and Ireland's leading signs and graphics business, with an established, respected brand and over 60 centres and 30+ years' experience. Offering bespoke signage and graphics solutions to customers large and small we offer room for creativity and innovation, offering anything from exterior building graphics, illuminated signage, digital signage, vehicle wrapping, exhibition and displays, window graphics, bespoke wallpaper, health and safety signage, eco-products, the list goes on!
Here's what you need to know:
Operating for over 20 years with an extensive and loyal customer base
Extended territory serving the whole of Liverpool and Wirral and spanning both sides of the Mersey taking the business total to over 20,000 selected businesses
Ideally situated on Croft Business Park in Bromborough
Asking price: £175,000 with potential for negotiation
Opportunity to reach £500k+ turnover
EBITDA profit margin potential at c.20%
Personal capital investment required: c. £70,000
Financing support from key lenders such as HSBC
No industry experience required, full training and onboarding is provided
Full support from the UK based Franchise Support Centre and wider network
The Opportunity
Showing persistent growth in both turnover and profit over the last few years and along with process efficiencies and a skilled team in place the centre presents a great business opportunity. Operating from a 3,000sqft modern industrial unit in Bromborough, Signs Express (Liverpool & Wirral) services areas including Birkenhead, Bromborough and Seacombe as well as Liverpool and Wirral. Upon completion, the territory will also expand to include areas such as Crosby, Kirkby, Aintree, Garston and Allerton Huyton presenting plenty of room for business growth and expansion.
Currently operating at silver level within the Signs Express network, the centre offers a new owner a solid business with sales and EBITDA in an upward trajectory, a fantastic team, loyal customer base, full suite of equipment, great location and territory expansion along with an immaculate unit, allowing you to hit the ground running and start generating your ROI from day one. Whilst this is an established business, the expansion potential allows you to put your stamp on the business to take it to the next level. With a forward-thinking strategy in place, there is also opportunity to expand the business further by taking on available neighbouring territories.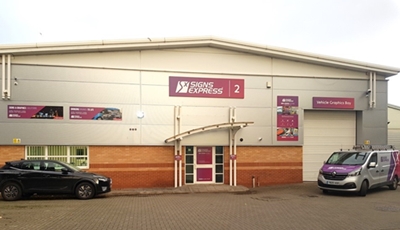 More questions? Here's some FAQ's that may help:
Q. My background isn't in signage, is training provided?
A. Yes, full and extensive training is given to all new franchisees over a four-week period, plus handover and ongoing support from our Franchise Support Centre team.
Q. Who currently runs the centre?
A. The centre is currently run by Roy Heeley and John McEntee who have owned the business for over 20 years. Upon taking on the centre, a new owner could look to amend the structure by having one business owner plus sales support. The Franchise Support Centre can help with advice regarding structure and how this will affect your bottom line.
Q. Why is the centre being sold?
A. The current owners are moving into retirement.
Q. What's the minimum capital I need initially to purchase the business?
A. Based on a selling price of £175,000, you would require:
30% of the sale price (£52,500) to purchase the business
£8,500 +VAT franchisee fee for your rights to trade under the Signs Express brand and within the territory for a 10-year period
£1,250 +VAT for our legal fees
c. £5-10k for your own legal and accountancy fees to complete the sale and due diligence
Totalling: c. £72,250
Q. What sort of person are you looking for to take over the business?
A. We're looking for a business minded, driven individual with strong sales skills, strong team values and a core focus on customer excellence.
Q. Are there any other costs involved?
A. All of the above costs are one off costs associated with the purchase of the business. As a franchise, the only other ongoing monthly costs you will incur are:
Monthly Management Service Charge (MSC) fee of 7.5% of your turnover to cover use of the brand, all aspects of support from the Franchise Support Centre including IT, Finance, Sales, Operational Support and Marketing including our website (your shop window), bespoke marketing campaigns and much more.
National Promotional Fund (NPF) levy of 1.5% of your turnover, or you can opt to pay NPF at a fixed monthly rate (currently set at £380 per month) which covers all of our national brand advertising, lead generation and your monthly PPC campaign.
Q. If I'm interested in finding out more, what do I do next?
First off, send us an enquiry via our website or get in touch over the phone (01603 598455) and we'll arrange a short introductory call with you. This gives us a chance to understand what it is that you're looking for, what your business experience is and where your skills lie, what your goals are for the future and so we can give you a detailed overview of Signs Express.
Following this, if both parties are happy to proceed, we'll send you the confidential prospectus for our Liverpool centre which gives you more financial information and information specific to the centre (following a signed NDA).
We would then invite you to attend one of our Interactive Discovery Days at Signs Express (Twickenham) where you can have a tour of our company owned centre, see demonstrations, meet some of the team and have an open and honest conversation about how the business works.
Again, if both parties would like to proceed, we'd then invite you to speak to our network and visit our Liverpool centre to get a real feel for what you're looking to invest in!
If this is a business opportunity that appeals to you, why not get in touch for a no obligation introductory call and Discovery Day?
Contact the Head of Franchise Recruitment Emma Wakefield via email emma.wakefield@signs-express.co.uk or call 01603 598455 for more. Alternatively click below for more information about Signs Express