Steve was looking for help and support of a large accounting practice, but still favour him with the freedom to operate on his own.
Steve Powell is manager of DNS's Wigan branch. He is a highly qualified and motivated management accountant with 30 years' experience.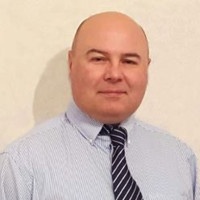 Qualifying as an accountant with the Chartered Institute of Management Accountants (CIMA), Steve is a member of the Institute of Certified Bookkeepers (ICB) and is currently studying with the Association of Chartered Certified Accountants (ACCA).
Skilled and passionate about what he does, before joining DNS, Steve worked for around 15 years as an accountant in industry, predominantly in manufacturing but also in the charity sector, for a logistics firm, and in the so-called fast-moving consumer goods (FMCG) sector.
Steve added to his accountancy qualifications and experience by running his own manufacturing business for three years and providing services as a Business Advisor for Business Link. This background has furnished Steve with all the attributes and experience to manage the highly successful Wigan branch of DNS Accountants.
Before becoming a DNS Accountants Franchisee, Steve had been running a small accountancy practice on his own for a number of years. Running this small practice, however, regretfully, Steve felt compelled to turn down the individuals and corporate clients requesting more complex accounting needs. This was due to a feeling that, alone, he could not provide the collective expertise and experience of a larger firm, which would be able to offer clients seeking complex account management the collective expertise they required.
Confident in his own abilities, but knowing that accountants work better in a "brace" of specialities, he decided to look at opportunities that might provide him with the help and support of a large, well-staffed accounting practice, but still favour him with the freedom to operate on his own.
Then Steve found out about about DNS Accountants Franchise. So what made Steve choose to join DNS as a Franchisee? "The people!" he states categorically: "I was seriously interested when I had my Discovery Meeting with the Operations Director Gary Zouvani; but I became convinced after my research and having talked to the other DNS Directors, that the DNS Franchise opportunity was what it said on the tin. It seemed I'd found what I wanted: An opportunity to operate autonomously with the backing of a large business to help me out whenever needed."
Steve completed his statutory DNS Accountants Franchise weeks' training and still takes advantage of the training opportunities DNS offers on an ongoing basis. He has benefited from the support network that embraces all DNS Franchisees: "There is no shortage of training and support," Steve says. "I had a full week's training when I first joined the team. The DNS website is filled with blogs and other useful info and videos. There is a weekly training session on relevant topics every Friday. Help is always only a phone call or email away."
Today, Steve's DNS accountancy business is growing beautifully and organically. He now employs six staff, who "collectively have over 60 years' experience supporting owner-managed and small businesses." When asked if becoming a DNS Franchisee has helped him achieve a work-life balance, Steve replies without a thought – "Absolutely!"
Confidence in his business, which has been growing organically since 2015, has put Steve on the pathway to job satisfaction and financial success that he envisaged. With his own loyal team in Wigan plus the whole DNS network to advise and support him both pastorally and professionally, Steve has at his fingertips the "brace" of specialities of the well-staffed accounting practice of which he had dreamed. This, with and his skill, determination and energy have been rewarded with great success and the freedom to operate on his own just as he desired.
Find out more about the DNS Accountancy Franchise by clicking below now!
What

Our Franchisees Say

My Franchisee training has been both effective and efficient. It has provided me with the necessary knowledge for running my business, both in terms of software and any technical knowledge that I may wish to review.

In terms of flexibility, once again the dns value is apparent throughout. All the trainers are thorough in the areas they teach and also ensure whenever I need their assistance the solution is provided promptly.

It is truly impressive to witness the specialised knowledge such a vast team can have and how they are genuinely there to help me.
Why

Choose Us

We offer 10 days of extensive training as well as ongoing support to ensure your knowledge always expands in all areas

Join the dns accountancy Franchise and be supported by a dedicated professional team who work with you to make your business aspirations a reality

Partner with dns accountancy Franchise and get full access to our own accountancy software, offering you an all-in-one solution
Related

Franchise Categories
Related

Franchise Types