Dusting Off After Redundancy To Build A Business That Shines
Rob Piper is a self-confessed people-person. For almost two decades, his natural flair for communication, employee engagement and customer service saw him excel within Sefton's Education Authority. Tragically, in 2010, government funding cuts brought an abrupt end to his career. Determined to turn things around, Rob set out in search of his next opportunity and, in 2011, Poppies Liverpool was born. Initially craving more security and the chance to put his skills to good use, Rob's business now affords the freedom and rewards that have quite literally changed his life.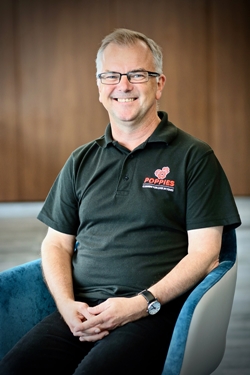 "Poppies has given me a level of freedom that I could never have achieved in an employed role. It was a revelation to escape some of the trappings of the corporate world; the hierarchy, the office politics. Poppies has allowed me to be creative and have autonomy with the comfort of a proven model to follow. I'm a people person and Poppies is a relationship business – that's one of the many reasons why it's been so rewarding for me. This business ticks my personal and professional boxes."
Originally joining youth support service, Connexions, in 1996, Rob quickly climbed up the organisational ladder to a senior level; managing a team and liaising with local schools and colleges. When a new government came into power, cutbacks resulted in the service's funding being pulled. True to style, Rob turned the situation on its head. Already familiar with the concept of franchising, he began to consider becoming his own boss - a sure-fire way to never again face the threat of redundancy! What Rob wanted, was a chance to utilise his existing skills - communication, customer service, staff recruitment and leadership – to build a scalable business that offered personal satisfaction and financial rewards. In Poppies, he found just that.
"Being made redundant is like having the rug pulled out from under your feet. I was lucky in that, instead of leaving immediately, I was asked to stay on for a couple of months and that gave me the time to research my next move. I already knew about franchising and the more I thought about it, the more it appealed. I could really see the benefit of investing in a 'business in a box'. I didn't have to invent anything; systems and processes would be in place for me, training is given, and you're supported from day-one by head office. These were key selling points of Poppies for me – that and being able to make a difference in other people's lives."
Preparing for his next adventure as a business owner, Rob conducted thorough due diligence on the Poppies franchise. He researched the company values and found that they aligned with his own. He learnt as much as he could about what being a franchisee would entail and was pleased to discover that his skillset and experience were ideally suited. Finally, he spoke with existing franchisees about their own experiences to help him decide whether a Poppies franchise was the right choice. Unsurprisingly, it was.
"I made up my mind almost straight away that this was what I was going to. I knew that I would excel in this business and that I could create a personal business that supports both my own passions and others in my local community. I was sold!"
Established in 1980, Poppies was the UK's first domestic cleaning franchise. Franchisees manage a team of dedicated cleaners who visit clients' homes and provide a range of top-quality services. From basic housekeeping and laundry to party clear-ups, spring cleans and home-move assistance.
Integral to its best-in-class offering is the Poppies culture, the franchise proudly champions the wellbeing of its cleaners and believes in treating staff with respect and care and creating a fun, enjoyable working environment. Happy, loyal staff go above and beyond for clients and truly make the Poppies brand shine.
Along with an official training week with Poppies founder, Sue Rorstad, Rob spent some time in the Ormskirk office over four weeks with, now-franchisor, Chris Wootton. Alongside his training, Rob dedicated himself to raising awareness of his new business through leaflet campaigns and networking. Within a week, he had secured his first client.
"The time with Chris was extremely beneficial. I'm a practical, hands-on person and I learn best by doing so being able to go on cleans, observe and conduct inspections and learn about the procedures and policies was invaluable. To receive one-to-one training from Chris, who had successfully run his franchise for many years at the time, was amazing."
The first Poppies franchise was launched in 1984 - and is still going strong! Today, the 22-strong franchise network provides high-quality cleaning to over 6,000 homes on a weekly, fortnightly or monthly basis in line with clients' individual needs. Generating an impressive combined turnover of more than £5million, the Poppies franchise offers an exciting opportunity for prospective business owners to capitalise on an industry worth £4.7billion.
In the weeks that followed, Rob ran the business from the comfort of his own home. However, keen to grow and expand – and with demand for the service rapidly increasing – on March 1st, he moved into his own office in the heart of South Liverpool. Almost a decade later Rob's first client is still a loyal customer, but his client base now exceeds 200 local households and businesses. Poppies Liverpool employs 26 cleaners and delivers nearly 1,600 hours of cleaning every four weeks. With the support of an Office Manager, Jan, and Supervisor, Michaela, Rob is looking forward to the future and plans on taking a step back from the business.
"My plan is to spend less time physically in the business. I have an elderly mother who I would like to dedicate more time to and, of course, I want to be able to enjoy the fruits of my labour. I've built the business to a point where I have the reassurance that things will run smoothly even if I'm not there. And that's because I can place my trust in the office team – they're amazing. The scope of freedom that Poppies has given me has been life changing. I'm looking forward to having more time for myself and my loved ones and enjoying my passions."
When he's not in the office, as well as being an avid tennis player, Rob loves to travel with his partner. The couple cite Sri Lanka and many European capital cities amongst their highlights. Rob is also a keen skier, having learnt in his 30s and is now well on his way to becoming an advanced snowboarder, despite not starting until the tender age of 46! He takes great pride and comfort in knowing that he has flexibility and freedom, whilst the business continues to provide a trusted, quality service.
"I would recommend a Poppies franchise to anyone. The abundance of expertise, commitment and devotion in the brand and the network is enough to anyone's minds at rest about investing. It's such a rewarding business and I love being able to make a difference in people's lives. This business makes an impact and I'm incredibly proud to be a part of the Poppies family."
To find out more about starting your own Poppies Domestic Cleaning Franchise just click below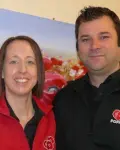 Driving Towards A Successful Business
After relocating to Chester, Katie Ellams found her perfect match in a cleaning franchise, Poppies.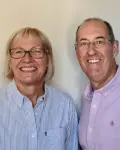 Banking On A Secure Future With Poppies
Charles Kirkman and his wife, Christine, opened Poppies Peak District in September 1997.
What

Our Franchisees Say

The fact that you're coming into a franchise means you've got the support there already from the network. We've gone through foot and mouth, recessions, COVID, and we're still going, protecting our staff and lifestyle. It's a very robust model. North.Andrew Wishart, Poppies

After 7 weeks I'm looking to recruit my 3rd staff member and I've got 10 regular customers. The support from Head Office has been exceptional.Kuldeep Mahi Poppies Warwick

Poppies has helped me develop new skills that I never had before. But the thing about Poppies is that you are making a difference to people's lives – it seemed to me there was very little chance I could fail with the support I would have. I'm here over 10 years later, so I obviously made a good decision.Rob Piper, Poppies Liverpool
Why

Choose Us

Poppies back your success with a Zero Risk Money Back Guarantee

Superb earning potential - Once established, you will have the potential to earn £100k+ per year. Then within 10 years, it's possible to grow and sell your business, making over £1m in profit in that time.

Poppies back your success with a Zero Risk Money Back Guarantee
Related

Franchise Categories
Related

Franchise Types