Banking On A Secure Future With Poppies
After more than 20 years as a Business Manager at Lloyds Bank, Charles Kirkman and his wife, Christine - who also worked at the bank as a Business Support Manager - decided it was time for a change. Having supported many prospective business owners over the years, the pair had begun to crave the same autonomy and flexibility they were helping others to achieve. One particular business stood out, and, after careful consideration, in 1997, Poppies Peak District was born. The transition was truly lifechanging! 23 years on, the franchise continues to thrive and has opened up new opportunities for the ambitious couple.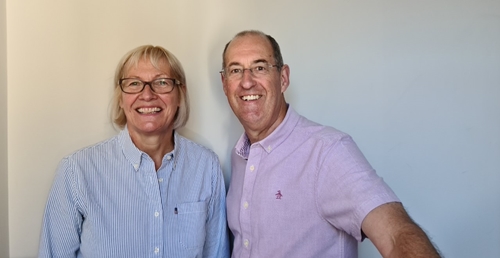 "Financially, we've done much better than we would have in the bank. But it's about more than that. Christine and I were looking for something that would offer a different and better quality of life. We found it with Poppies! We have built a viable and prosperous business; it worked for us when we had young children and it's evolved with us and continues to support our lifestyle today. Poppies works as a family, nurturing but not intrusive which is a difficult balance to achieve."
Charles' Poppies journey began when he met Nigel Bayliss, a Poppies franchisee who, in 1994, was looking to secure funding for his new venture. Throughout the lending process, Charles was privy to the model and the financial potential of the business. And, after Nigel's launch, as Bank Manager, he was able to observe Poppies Sheffield rapid rise to success.
"Working in the same business, Christine and I experienced similar aches and strains. We were fed up of the politics in the workplace and wanted to find a new challenge. We began looking for a business to become immersed in. Having worked in the bank for many years, I felt it would be valuable to go into a franchise, rather than just being naked and doing it by myself. We had confidence in Poppies because we'd had the opportunity to learn about the model and see inside Nigel's business over a couple of years – something he was only too happy to share with us.
"Ultimately, Christine and I decided that we wanted to experience the highs and lows of business ownership ourselves. We fell in love with the way the Poppies franchise was structured and the fact that it was not too prescriptive or rigid: we would have a significant degree of individuality, albeit working to the Poppies' tried and tested guidelines."
Established in 1980, Poppies is the UK's first domestic cleaning franchise. Franchisees manage a team of dedicated cleaners who visit clients' homes and provide a range of top-quality services. From basic housekeeping and laundry to party clear-ups, spring cleans and home-move assistance.
Integral to its best-in-class offering is the Poppies culture. The franchise proudly champions the wellbeing of its cleaners and believes in treating staff with respect and care and creating a fun, enjoyable working environment. Happy, loyal staff go above and beyond for clients and truly make the Poppies brand shine.
Poppies Peak District opened its doors in September 1997. Charles and Christine were operating from the comfort of their own home as they focussed on signing their first client. Even in those first months, the franchise was already giving the parents of two the freedom they had been so desperate to find.
"Our lifestyle completely changed, almost overnight. It enabled us to attend school functions and be involved with the children's lives as much as we possibly could. We could go to school plays, parents' evenings and sports days. It was important for us to be there for the kids as they were growing up and Poppies gave us the opportunity to do just that, even as we worked to grow the business."
And grow it did, within nine months, Christine left her role at Lloyds Bank to join Charles in the franchise full time.
Fast forward to present day and the Kirtman's employ 27 cleaners and service over 130 clients – all from a new office in the stunning Peak District National Park. Whilst the team at Poppies Peak District already provide over 1,300 cleaning hours every month to clients in the area, they continue to strive for growth. The latest development in the Poppies franchise will help them to do just that.
In 2018, Poppies entered a new phase of life. Charles and Christine, along with the existing network, were excited to welcome long-standing fellow franchisee, Chris Wootton, into the role of Franchisor. Chris has operated his own Poppies franchise since 1994. His experience and passion for the brand is something that he and Charles certainly have in common.
"Chris knows the business inside and out. He has bought with him a lot of enthusiasm and a significant amount of knowledge that is crucial to drive us forward. The future looks exciting! Chris' commitment and determination will lead to a more efficient and effective network, generating more income, thereby, adding more value to each business."
The first Poppies franchise was launched in 1984 - and is still going strong! Today, the 22-strong franchise network provides high-quality cleaning to over 6000 homes on a weekly, fortnightly or monthly basis in line with clients' individual needs. Generating an impressive combined turnover of more than £5million, the Poppies franchise offers an exciting opportunity for prospective business owners to capitalise on an industry worth £4.7billion.
Despite being a franchisee for more than two decades, Charles still appreciates the fact that he can rely on his fellow franchisees for support. In fact, he says it's one of the best things about being a franchisee.
"We love having a support network that we can call upon as and when needed. The opportunity to meet and discuss our businesses and experiences - both good and bad – has been invaluable over the years. It reminds us that we're not alone and you find that everyone's problems are quite similar. We have regular forums that encourage a positive exchange of views and methods, we discuss best practice and work to find a solution together. Involvement from head office is very much on demand, rather than intrusive. Support is something I think Poppies can pride itself on."
In 2012, thanks to the success of their Poppies franchise, Charles and Christine were able to purchase a number of holiday cottages in the vicinity which the couple now run as a second business. Thanks to the flexibility of the franchise, Charles is able to run the two side-by-side. And he even has time left over to enjoy walking in the stunning national park, a few rounds of golf and the odd spot of gardening. He takes great comfort in knowing that he has the freedom and flexibility to enjoy his hobbies and make the most of his picturesque location.
"I've always appreciated the fact that we have the freedom to make our own decision and move our business in a direction that we choose. It was important that Christine and I found something that gave us the satisfaction we craved and, ultimately, time to spend to spend with our children. It's safe to say we achieved that, and more. It's hard work but we love what we do."
To find out more about starting your own Poppies Domestic Cleaning Franchise just click below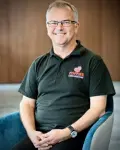 Dusting Off After Redundancy To Build A Business That Shines
After redundancy Rob Piper set out in search of his next opportunity and in 2011 Poppies Liverpool was born.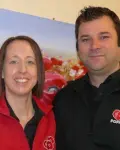 Driving Towards A Successful Business
After relocating to Chester, Katie Ellams found her perfect match in a cleaning franchise, Poppies.
What

Our Franchisees Say

Poppies has helped me develop new skills that I never had before. But the thing about Poppies is that you are making a difference to people's lives – it seemed to me there was very little chance I could fail with the support I would have. I'm here over 10 years later, so I obviously made a good decision.Rob Piper, Poppies Liverpool

After 7 weeks I'm looking to recruit my 3rd staff member and I've got 10 regular customers. The support from Head Office has been exceptional.Kuldeep Mahi Poppies Warwick

It was a big learning curve, but it was good because with Poppies there is always support there for you. You just have to call somebody and they will tell you how they dealt with the same situation. That support mechanism and backup is really handy and really useful.Nicola Marinan, Poppies Durham
Why

Choose Us

Poppies back your success with a Zero Risk Money Back Guarantee

Superb earning potential - Once established, you will have the potential to earn £100k+ per year. Then within 10 years, it's possible to grow and sell your business, making over £1m in profit in that time.

Poppies is a brand you can trust - Poppies is the UK's first and longest-running domestic cleaning franchise, trusted to clean the homes of thousands of customers every month
Related

Franchise Categories
Related

Franchise Types