Join one of the UK's fastest growing short-let management franchises with the Host & Stay Partnership opportunity
Host & Stay are one of the fastest growing short-let management franchisees in the UK. From investing in their first property in 2004, they have formed and grown several property businesses covering residential property, commercial property, and holiday lettings. Now they are taking the holiday letting industry by storm by applying a millennial approach to an age-old industry, and they want more like-minded people to join them on their journey.
As the hospitality and property sectors continue to merge, there has been an increase in demand for the full management services within the property sector. There has never been a better time to run your own short stay property management franchise.
According to a report by letting agent professional body ARLA Propertymark last year, nearly 50,000 properties have been changed from long-term to short-term letting. Its research, which was carried out by Capital Economics, found that a further 10% of landlords were considering offering short-term lets in the future.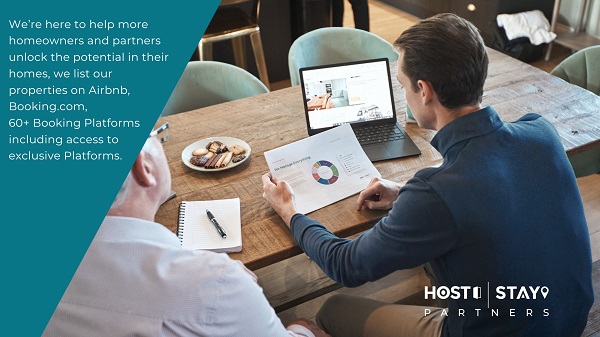 The Host & Stay Business Opportunity:
The Host & Stay Business Model allows novice entrepreneurs, and ambitious individuals to follow the success of a business blueprint in an exclusive franchise territory as a full-service short-let management franchise, utilising the Host & Stay trademark brand.
Host & Stay Business Partners help more homeowners and partners unlock the potential in their homes, they list their rental properties on Airbnb, Booking.com, 60+ Booking Platforms including access to exclusive Platforms.
Business Partners handle the entire process for homeowners; including marketing, revenue, property, and guest management and generating income – Host & Stay's technology helps run every element of a booking.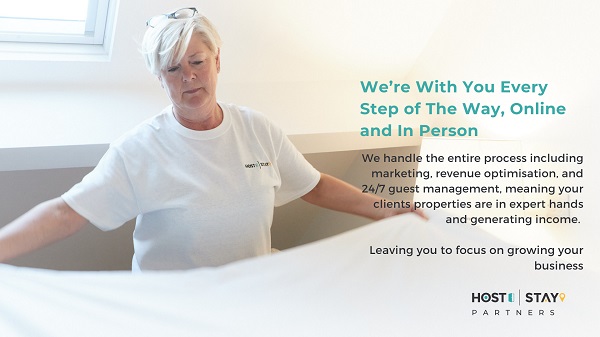 Why Become A Host & Stay Business Partner?
Whether you are an independent sale or letting agent, or an entrepreneur, Host & Stay want you to focus on what you do so well: building lasting relationships with your clients.
In return, they will provide you with everything you need to succeed. Their support is extensive, and your business will benefit from their proven systems and processes, helping you to grow your short-let management franchise under an established brand.
As a Host & Stay Business Partner they can guarantee the following:
Strong Brand
Extensive Business Network
Fully Integrated PMS
Digital Guest Welcome Book
Interactive Host Dashboard
Powerful Pricing System
Access To Hundreds of Global Platforms
24/7 Support Team

The Investment:
Host & Stay has always been strong in growth. They offer a variety of opportunities and growth in elevating your business and being part of a respected and passionate brand with one of their professional avenues below:
Franchise Partnership
Host & Stays' Franchise Partnerships are perfect for those individuals that are looking to take the next step in their career and want to open their own short let property management business but with the backing of Host & Stay's brand recognition, established database and network.
Franchisees can find this route highly rewarding in the long run as cold start opportunities give potential franchisees the autonomy to set up the office and grow it how they see fit right from the beginning.
Typically, for a 'cold start' franchise, you should budget £15,000 to £20,000 for the Initial franchise fee plus ongoing investment for the first 12-18 months.
License Partnership
This is where an independent estate agency, letting agent, property management, or a property professional business wants to enhance their growth into a new market segment within the local property marketplace.
The Host & Stay licence structure allows you to utilise the intellectual property of the brand and its trademark to enhance your business in an exclusive territory as a full-service holiday lettings company whilst retaining the freedom of operating your business independently.
A license is only available to existing businesses with the infrastructure in place, and holds a monthly licence fee.
If you are a property professional or an entrepreneur and you are interested in joining the Host & Stay, click below now!