If you're considering investing in a retail franchise, one of the rapidly emerging franchises is the specialist mobility retailer, Ableworld!
The retail mobility market is one of the fastest growing sectors in the economy. There are more people aged over 65 than ever before and people are living longer. As the population ages, more people will require the goods and services a mobility retailer like Ableworld offers, including products like mobility scooters, specialist furniture and stairlifts.

Established in 2001 by an experienced retailer, who had been involved in two nationwide chains before, Ableworld now has over 34 stores, making it the largest mobility retailer in the country.
What are the main services the business offers?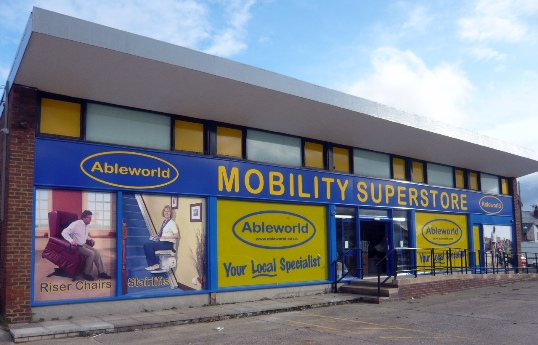 As an Ableworld Franchisee you will manage your own shop-based unit providing specially produced equipment for the elderly including personal dressing, healthcare equipment, toileting and injury supports. They also offer adjustable beds, bathing aids, chairs and special kitchen tools.
Ableworld are best known for their mobility products such as walking aids, powerchairs, scooters, wheelchairs and stairlifts.
What will my job role be?
An Ableworld Franchise consists of a retail outlet and a stairlift business. For the retail side you can think of the job as similar to a specialist retail manager. Building trusted relationships and giving high levels of customer service before, during and after the sale are paramount.
On the stairlift side of the business franchisees will need to be able to quote, install and repair the equipment. A background in light engineering is an advantage although full training will be given. A possible option is to hire an engineer if the franchise partner him/herself prefers to concentrate their efforts on the sales and management side.
As several franchisees have proved, a partnership of two people, pooling their skills and experience can work very well.
What training do I receive?

Ableworld's training programme covers all sides of the business including products, engineering (for the stairlift), systems, marketing and sales.
Over seven weeks franchisees spend time at Ableworld Head Office, their own store and at key suppliers.
The programme also includes significant on-the-job training from experienced Ableworld trainers in Ableworld stores.
What qualifications do I require?
An Ableworld franchise can be run by a single operator or as sometimes happens two or more people pooling their skills (eg a married couple). Franchisees come from a wide variety of backgrounds such as sales, retail, construction, armed forces, teaching and health.
No previous experience of the mobility industry is needed as the company has a comprehensive training programme. Successful franchises have a desire to help people and the drive and determination to succeed at business. Among the personal skills required to run an Ableworld franchise are customer service, good communication skills and general business acumen.
What financial rewards can be achieved?
Stores are capable of achieving in excess of £1,000,000 turnover a year. The gross profit margins have been stable over the years and provides a healthy sum from which all business expenses are met.
The net profit is available to the owners and varies from store to store. Ableworld are happy to share examples of previous success when potential franchisees visit them for a Discovery Day.
What is the investment?
Ableworld not only wish to continue their great success but they want others to succeed with them. That is why they are encouraging people to join them in their quest of helping the elderly through franchising.
Interested applicants need £75,000 but may start for as low as £25,000 as major banks may cover most of the finances and total initial investment costs.
The package includes everything needed to open the franchise including but not limited to marketing, training, accounting setting, support and mentors.
There will never be a better time to enter the retail mobility market and by investing in a franchisee with Ableworld you will be joining the market leader.
Find out more about the Ableworld Franchise Opportunity and managing your own Mobility Equipment Business. Click below now!