Riverford Takes a Chance With a Controversial Marketing Approach
25th October 2018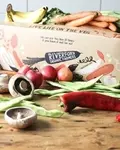 Riverford Organic Farmers recently launched a subversive multi-channel marketing campaign generating debate about food evils and promoting Riverford's credentials as an ethical farming business and the solution. As well as raising awareness and driving new subscriptions we wanted to warm up ethically-minded millennials who will be the next generation of veg box customers.
The September return (along with the New Year) is a time when people reconsider their food choices and settle back into autumn routines after school holidays, and a good time to persuade them to try a veg box. The campaign took advantage of this seasonal trend to give a wider audience reasons to choose Riverford.
The challenge
Marketing veg boxes (Riverford's core product) presents a few challenges which the campaign was aimed to overcome, while stimulating interest among a wider, but still values-driven, audience in the increasingly crowded food subscription market.
It's a challenging product. Veg boxes contain seasonal, sometimes unfamiliar, produce: you have to be confident in the kitchen to cook from its contents, and not afraid to try the odd kohlrabi.


It's (a little) more expensive than non-organic veg. Paying everyone in the supply chain fairly comes at a cost, and so does growing produce for flavour – rather than speed and maximum yield. Riverford need to convince people that the veg, ethics and the experience are worth this extra.
Riverford is selling feel good as well as good food
Customers are not just choosing to buy a box of great tasting organic veg. They are choosing to support a business that they trust to put ethics, quality and the environment above just profit. They are choosing pioneering founder Guy's Singh-Watson's honesty, candour and preparedness to challenge the food system. They're choosing to take a little more time and spend a little more to get food that tastes great on a number of levels (in your mouth, and in your heart). It's also a challenge to avoid being too preachy!
Riverford have had great success in the past using stories to get across why 50,000 people choose to eat from a Riverford veg box every week, but to get to a wider audience they had a few challenges:
Borrowed clothes - Every other supermarket and food retailer is telling superficially appealing stories about the veg they sell. They all claim provenance of the food, they all claim to treat suppliers and farmers fairly and supply food with minimal impact on the environment. They use glossy pictures of hard-working farmers in fields and slow-mo shots of food being prepared the old-fashioned way, that scream 'farm' not 'factory'. Their marketing team knew it would take courage to be brave and breakaway from the crowd.


Given their very limited media budget, the Riverford team needed to get the attention in a crowded landscape filled with adverts (a problem not exclusive to Riverford)? Also, given that competitors are all telling the same stories, how do they get across that Riverford are the real deal?
Being disruptive with anti-feel-good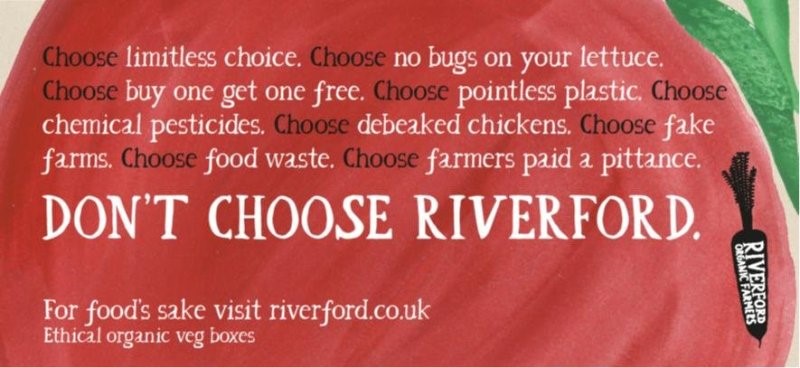 Riverford wanted to get their audience to pause and think about the wrong way of buying food, the complicit choices they make every day - without slinging mud. They looked at what Riverford stood for, and for every 'feel good' there was a negative - things that would not make you feel good if you valued the environmental impact or ethics of your food. Their approach was to point out the hidden negatives that a customer was inadvertently buying into if they did not choose Riverford, countered by the positive reasons to choose Riverford as an antidote.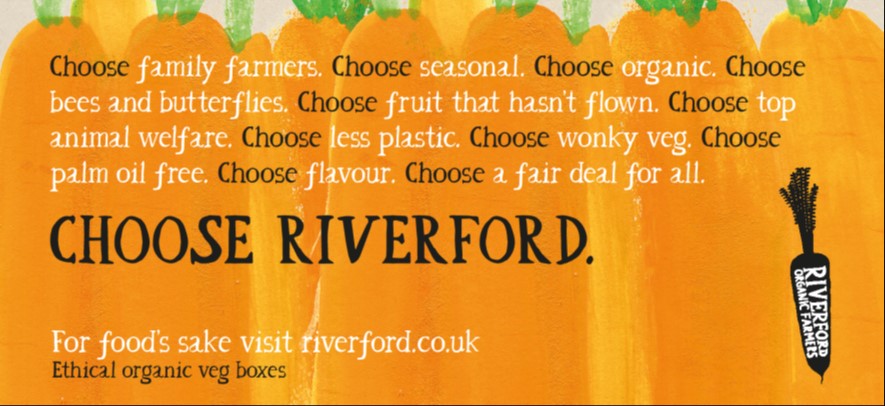 Riverford, like its founder Guy, has never been scared to stand up for what it believes in and speak out if it believes there is a better way. They decided to use the slogan 'Don't Choose Riverford' alongside the anti-feel-good to cut through the noise, creating disruptive adverts that would appeal to their thinking audience; allowing them to read between the lines of the cut-down creative to understand 'If you don't care about food waste, don't choose Riverford.' The negative slogan was counterbalanced by a positive message 'Choose Riverford' which went on to explain why you should choose organic.
Riverford knew that each of these points could be complex to explain.
They wanted people to be able to explore the depth of each topic. Separate creative explored single points, with pre-roll teaser videos and blog posts (some co-authored by partners to add authority) detailing each issue and Riverford's positive position.
The campaign was integrated across several channels as well as their owned media. This included, but is not limited to, OOH in London and via their own franchisee network, print and online with the Guardian and targeted door drops. Online they placed video advertising via Unruly, as well as Facebook using video formats and to target and re-target to drive people towards conversion.
The campaign was designed and executed by Riverford's in-house team, who are based on the farm in Devon. It will continue for some time in different guises. Riverford will continue to present the positives and negatives via other stories and artwork.
The campaign has generated a lot of 'chatter' and sales figures so far have shown it's been successful, bringing in record new customer numbers and helping to establish greater retention from existing customers.
Find out more about franchising with Riverford Organic by clicking below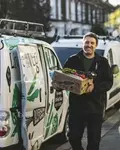 A Growing Organic Market for Riverford
19th February 2019
Business continues to look good for Riverford Organic Farmers and its network of franchisees, following the 2019 Soil Association Organic Market Report.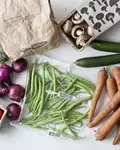 Riverford Turn Their Back on Single-Use Plastic
20th August 2018
Riverford have committed to replace single-use plastic with home compostable packaging used in their veg boxes by the end of 2020.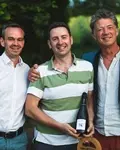 Riverford Annual Franchise Conference 2018
26th June 2018
Staff and franchisees gathered at Riverford's Wash Farm in Devon for their annual franchise conference.
What

Our Franchisees Say

Riverford franchisees have a level of independence that means we feel supported and not restricted.Liz Sowden, Dorking & Horsham Home delivery

Trust in the Riverford Business planning process. It may seem time consuming and complicated at the outset but is based on sound /tried and tested principles. If you follow it's logic it'll give you a great steer and provide a solid base for achieving success.Hilary Garnham, Somerset West Home Delivery

Even during the toughest of times I don't think I have honestly ever regretted taking on my Riverford Franchise.Jim Harbridge, Portsmouth Home Delivery
Related

Franchise Categories
Related

Franchise Types