Maidenhead business owner Mario wins Franchisee of the Year
11th July 2023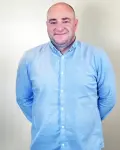 Aspray proudly announced at their annual conference that Mario Lovric, owner of Aspray Maidenhead & Guildford, is the winner of the prestigious award of Franchisee of the Year. This esteemed award recognises Lovric's outstanding achievements, unwavering dedication, and exceptional performance in building a thriving and successful franchise.
A Conference to remember
The Aspray Conference, a two-day event held at the luxurious Bowood Hotel, Spa and Golf Resort, was filled with laughter, learning, and celebration. The event provided franchisees with an opportunity to come together, exchange insights, and applaud remarkable achievements. From the fun activities that kicked off the conference, including golf, cocktail making, and sheep herding, to the transformative business presentations, the event fostered a sense of camaraderie and inspiration among all attendees.
The Aspray Conference not only serves as a platform for celebrating achievements but also as an opportunity for franchisees to gain invaluable industry knowledge, receive updates from Aspray's leadership team, and exchange insights and best practices. The event creates an environment where franchisees can learn, grow, and inspire each other to reach new heights of success.
A worthy winner, respected by the entire network
The award ceremony, held during the black-tie dinner at the conference, was met with great anticipation and excitement. As Mario's name was announced, the room erupted in applause, recognising his outstanding achievements and the remarkable impact he has made within the Aspray franchise network. The award of Franchisee of the Year is a testament to Mario's exceptional performance, leadership, and the positive influence he has had on both his customers and fellow franchisees.
Throughout the year, Mario exhibited remarkable determination, consistently going above and beyond to serve his customers and build a strong business foundation. His extraordinary efforts resulted in generating record turnover within the Aspray Franchise network, showcasing his exceptional business acumen and leadership skills.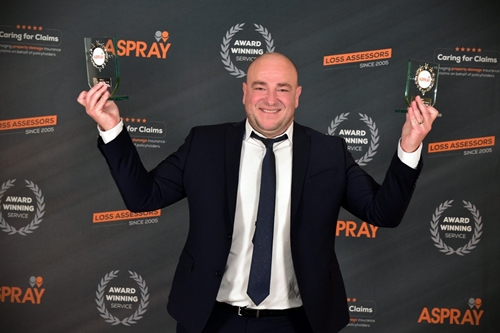 No easy feat!
Building a successful franchise requires relentless hard work, passion, and an unwavering dedication to the brand. Mario Lovric epitomises these qualities, consistently demonstrating his commitment to upholding the values and principles that underpin the Aspray Franchise. Through his exemplary work ethic and tireless efforts, Lovric has become a brilliant advocate for the Aspray brand, consistently delivering outstanding service and exceeding client expectations.
Mario Lovric said:
"It's an honour to receive the Franchisee of the Year award, especially since there are so many talented franchisees running successful businesses under the Aspray brand.
"A big thank you to the Head Office staff for supporting me throughout my journey, but I couldn't have done this without my Wife and business partner Ana!"
Aspray is immensely proud of Mario Lovric's exceptional accomplishments and congratulates him on being named Franchisee of the Year. The recognition is a testament to his extraordinary efforts and his embodiment of the values and ethos of the Aspray Franchise. The entire Aspray franchise network joins in celebrating this well-deserved honour.
Find out more about franchise opportunities with Aspray by clicking below
What

Our Franchisees Say

Since the start, I have taken part in the peer-to-peer support offered through head office. I feel it's important to be engaged and involved with this type of support. I don't want to see people in the network struggle and at the same time, it allows me the opportunity to learn and grow from others that do the same job in different ways.Jack Parkhouse

It's seeing people satisfied, happy and resolved and knowing that over the ten years you've helped people get back to their life. You see the homeowner, or policyholder satisfied and smiling, or you that the claims has caused them the minimum inconvenience, that's what you have achieved for them.Roy Bowen
Why

Choose Us

Work From Home

Exclusive Territory

Established and Proven Business Model
Related

Franchise Categories
Related

Franchise Types