John Strange Claims A Sensational Win At The BFA Awards For His Passion And Commitment In Local Community Projects
15th December 2022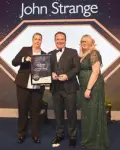 Aspray Franchisee John Strange stood out in the 'Community Focus Franchisee' category at the British Franchise Association Awards 2022 held in Birmingham. With a big personality and ever-growing familiarity in his local community, John left no doubt in the judge's minds as a worthy award winner.
John Strange, the owner of the Aspray (Glasgow West) franchise, was quick to excite the judges early in the award submission process. As a title sponsor of the popular 'Glasgow Clan' Ice Hockey Club, official shorts sponsor of St. Mirren Football Club, Chairman of the Glasgow East Alcohol Awareness Project, Board member of the STEPPS community project and championing various charity events, it's hard to disagree with the judges at the BFA.
When filming as part of the submission process, the organisers at the BFA Awards asked John, "how do you find time to do all this work?". As the BFA CEO, Pip Wilkins, put it on the night; "these projects are not just tick box exercises." It takes a genuine passion of helping people to be involved in so much community work. John dedicates all his time to improving the lives of those around him, or providing vital funding to help businesses prosper.
Aiding John in his community ambitions are a team of equally committed, enthusiastic and talented individuals. John has an incredible team of 5 people behind him who buy into his vision of helping people in the community. Between Nicky Moncur, Wai Wong, Lesley Lee, Ian O'Neil and Jennifer Stervinou, John has had the resources to influence big community changes.
GEAAP managed to secure their business premises, sealing vital ongoing support to members of the community battling addiction. 'The Glasgow Clan' received vital funding through Aspray Glasgow West's sponsorship during the COVID period, keeping the club afloat much to the delight of their faithful fans. Just a couple of examples of community support that John and his team have been successful in. And John claims this is only the start.
"It means the world to me and my team to see the impact we can make on a person's life both through the work we do as Aspray Glasgow West but also through the extra community work we do, something I plan to expand further as the franchise continues to grow." – John Strange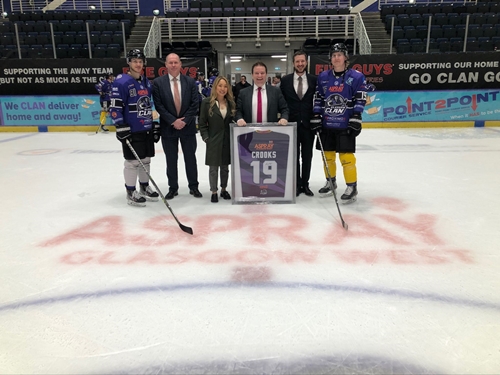 As the winner of 'Community Focused Franchisee' was read out on the big night at the BFA Awards and John made his proud walk to the stage, the tears were being held back. Emotions ran so high on the night, as this award stood for the story of John's life as a whole, not just a professional.
Before ambitiously deciding to take on an Aspray franchise based on his knowledge in the property sector, John dealt with many challenges in his personal life. Turning Aspray (Glasgow West) into a success gave John a platform to bring forth his passion for the local community.
John once sat in various support groups at GEAAP, who put their time into developing a strong mindset to overcome the turbulence in his life. Growing a business to a level to be able to help people in the local community has taken years for John. However, after all this time he has never forgotten those who has been there to help him in the past.
It is only fitting, that this chapter of John's community endeavours concludes with this prestigious award win, completing a full circle.
And what is next for John? Glasgow Clan fans are eagerly awaiting news of a takeover bid that John Strange and his business associates are planning, to advance the club into prosperity.
This award recognition for John will certainly fuel his ambition for more community projects. Besides, it's quite a reputation John and his team must live up to now!
Find out more about franchise opportunities with Aspray by clicking below
What

Our Franchisees Say

Since the start, I have taken part in the peer-to-peer support offered through head office. I feel it's important to be engaged and involved with this type of support. I don't want to see people in the network struggle and at the same time, it allows me the opportunity to learn and grow from others that do the same job in different ways.Jack Parkhouse

It's seeing people satisfied, happy and resolved and knowing that over the ten years you've helped people get back to their life. You see the homeowner, or policyholder satisfied and smiling, or you that the claims has caused them the minimum inconvenience, that's what you have achieved for them.Roy Bowen
Why

Choose Us

Work From Home

Established and Proven Business Model

Exclusive Territory
Related

Franchise Categories
Related

Franchise Types