Addressing gaps in the cleaning industry by creating an environment of care
In almost every country around the world, mental wellbeing is considered to be the second-biggest casualty of the pandemic behind the economy1. As such, it has never been more important for cleaning brands to champion their cleaners' mental health - not only in order to contribute their overall success and longevity, but to instil a culture of care and protection in the industry.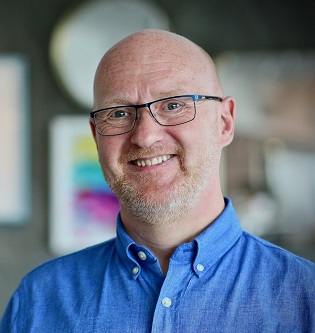 Here, Chris Wootton, Managing Director of the domestic cleaning franchise, Poppies, discusses why such services should prioritise addressing issues surrounding mental health and employee wellbeing in pursuit of improving the industry for jobseekers today.
Society has never felt more assured by seeing proven, trusted cleaning providers do the work they are unprepared to do themselves. In fact, research shows that 61% of people feel like safety measures are taken more seriously when they see cleaners in public spaces, and a quarter of people report that the same thing instils trust in their environment3. So why in 2023 is employee welfare in the cleaning industry so seldom discussed or celebrated?
Given the events of the last few years, stress levels in the UK have unsurprisingly risen exponentially. With a staggering 74% of adults reporting feeling overwhelmed or unable to cope4, the cleaning industry has seen a huge rise in demand for services by those who may not be able to do the job themselves. It is therefore imperative that cleaning companies and employers appreciate and value the work that cleaners do in order to look after their staff, and it is because of this that employee wellbeing and satisfaction have never been more heavily valued.
For example, here at Poppies, a priority within our recruitment process is ensuring our franchisees have the resources to look after their communities, their network, and most importantly, their staff. It is something we are incredibly proud of and has contributed heavily to forging longevity in an industry that so often sees cleaning brands lose their communities' trust. This approach to owning a cleaning business – or any business for that matter - is never wasted. Our cleaners operate in a caring, ambitious and socially conscious environment. Staff retention, which has been a pitfall in the cleaning industry for years - with experts estimating the annual turnover rate in the cleaning industry at around 200%5 - is evidence of our commitment to cultivating a caring, supportive environment.
Ann-Marie and Lisa, two cleaners employed by Poppies Doncaster, shared total of 40 years' service between them. With the next six longest-serving staff members in the same team, there is an impressive 100 years of combined experience. But how do we continue to ensure cleaners feel protected, nurtured and rewarded in an industry that so often faces criticism and change?
"At Poppies, I have the flexibility to care for my own family as well as my customers", says Ann-Marie. "Our boss is very supportive to all staff, and the company feels like a family of our own. My work and my team at Poppies have given me a huge amount of confidence and I genuinely do love my job!"
This is a sentiment echoed by many of our cleaners, including Lisa, who agreed that Poppies had given her the flexibility to care for her children when they were younger: "Poppies helped me to balance my working hours around school hours, and as my children grew up, I was able to pick up more hours on my own schedule. I have a great working relationship with my colleagues, my boss, and my customers - Poppies really cares about the people they employ. After 19 years, I couldn't imagine working anywhere else!"
And this level of attentiveness and care is seen across the Poppies network today. From taking part in the Race for Life to embarking on the Three Peaks in 24 Hours Challenge, we have made it our mission to use our businesses as a force for good in supporting our communities. In the last year alone, our incredible staff have participated in charity races, walks, volunteering events, charity sports coaching, tandem parachute jumps and so much more.
The importance of looking after your employees and your community has never been more evident.
Poppies has celebrated over 40 years of experience thanks to our nationwide network of cleaners appreciating the importance of working for a company who fundamentally cares. This is evident in our network as 23% of franchisees have been with us for over 25 years, and 89% for over 10 years and counting. Poppies' support in nurturing the morale of our network contributes to protecting the individual businesses, leading to successful, sustainable franchise growth.
Surviving recessions and pandemics is no mean feat in today's cleaning industry; as with any industry, your first priority should be to care for your employees, and the rest will follow. Engaged, valued employees often become a franchise's best ambassadors, attracting customers and talented employees alike. Treating your staff with empathy and care has multiple benefits that extend far beyond the immediate workplace; it is an investment which will drive growth, enhance reputation, ensure lower staff turnover, and ultimately ensure the success and sustainability of your franchise.
1 AXA, 2022, THE AXA STUDY OF MIND HEALTH AND WELLBEING IN 2022
2British Cleaning Council, 2021, THE CLEANING, HYGIENE AND WASTE INDUSTRY RESEARCH REPORT 2021
3Growing Family, 2022, CAN A PROFESSIONAL CLEANING SERVICE HELP TO REDUCE STRESS
4Mental Health Foundation, 2018, STRESSED NATION: 74% OF UK 'OVERWHELMED OR UNABLE TO COPE' AT SOME POINT IN THE PAST YEAR
5Clean Link, 2022, COMBATING THE INDUSTRY TURNOVER RATE
Find out more about running your own domestic cleaning franchise with Poppies by clicking the button below now!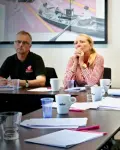 The Role Of Innovation And Entrepreneurship In Franchising
Chris Wootton, Managing Director of Poppies, discusses the role of innovation in franchising and how the modern franchisee must possess key entrepreneurial characteristics to be successful.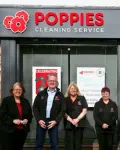 What Skills Are Needed To Be Successful In A Cleaning Franchise?
One of the first steps that needs to be considered prior to investing is whether you have the right skills required to run a cleaning franchise.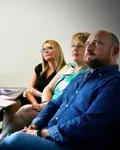 Strategies That Lead To Solutions: The Practices And Ethics Of The Cleaning Industry
Chris Wootton, Managing Director of Poppies, discusses the practices and ethics of the cleaning industry.
What

Our Franchisees Say

After 7 weeks I'm looking to recruit my 3rd staff member and I've got 10 regular customers. The support from Head Office has been exceptional.Kuldeep Mahi Poppies Warwick

It was a big learning curve, but it was good because with Poppies there is always support there for you. You just have to call somebody and they will tell you how they dealt with the same situation. That support mechanism and backup is really handy and really useful.Nicola Marinan, Poppies Durham

The fact that you're coming into a franchise means you've got the support there already from the network. We've gone through foot and mouth, recessions, COVID, and we're still going, protecting our staff and lifestyle. It's a very robust model. North.Andrew Wishart, Poppies
Why

Choose Us

Poppies back your success with a Zero Risk Money Back Guarantee

Superb earning potential - Once established, you will have the potential to earn £100k+ per year. Then within 10 years, it's possible to grow and sell your business, making over £1m in profit in that time.

Poppies is a brand you can trust - Poppies is the UK's first and longest-running domestic cleaning franchise, trusted to clean the homes of thousands of customers every month
Related

Franchise Categories
Related

Franchise Types