From Graduate to Country Manager in Seven Years!
At the age of just 30, Sam Orders has already had a varied career since he graduated from university, in 2012. This includes being a franchise owner, relocating countries – from Australia, to the USA and then Hong Kong – and rising steeply up the career ladder, and all within the same business…InXpress!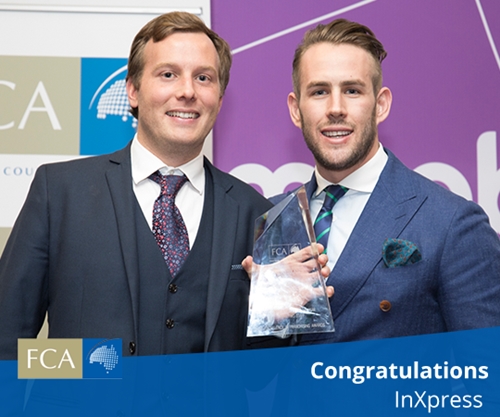 After graduating, Sam and his university friend, Shaun Birley, bought an InXpress franchise in Sydney Australia through the franchisor's Young Gun programme. After three years of hard work building the business up, they were both able to step away from it, leaving it in the capable hands of another University friend – and fellow franchisee, John O'Riordan. This gave them both the opportunity to fulfil other aspirations and, while Shaun launched his own men's lifestyle business, Sam headed to InXpress' head office in the USA to take up the position of Onboarding Director for the Americas.
Sam said:
"Straight after I left university I started my franchise, so I had never experienced working for someone or being part of a team. As my franchise was continuing to grow through my own team, it seemed like the right time to go in a different direction."
The opportunity to move to the US and become part of InXpress Americas head office team, based in Salt Lake City, came about through Sam's regular travels to join their conventions.
Sam explains:
"I knew it was important to learn from others, so Shaun and I always went to the US convention to learn from their top performers and head office team. I started building a relationship with the team especially the CEO Dustin Hansen and when an opening came up to join their coaching team, I couldn't say no! Plus, experiencing life abroad and knowing I could learn to ski on the best snow on earth, made it even easier to say yes!"

Sam stayed in the US for two years, when another opportunity to help the business' performance came his way. InXpress needed a new Operations Manager in Asia Pacific and the skills and experience Sam had developed in the US meant he was well positioned for this role.
For Sam it also came at the perfect time:
"My fiancé was a little homesick, so moving back to Australia and working as part of the InXpress Asia Pacific team, where I could continue to learn and grow professionally, was too good to say no to!".
As part of his role as Operations Manager for Asia Pacific, Sam worked closely with the region's management teams and franchisees, including in Hong Kong. So, when the Country Manager recently left for pastures new, Sam was given his latest opportunity to takeover the role.
As Mark Taylor, Global CEO for the business comments:
"Sam's experience of InXpress – as both a franchisee and as part of the franchisor team – knowledge of the landscape, the business, and the franchisees in Hong Kong, meant he could manage the transition smoothly; and we knew he could also push the business forward. InXpress is passionate about its talent management programme and is always looking for people like Sam with great potential and invest time in their training and mentoring".
This meant moving again, as the Country Manager needed to be based in Hong Kong. For Sam and his now wife, it was another opportunity to experience living in another amazing country. Sam was also able to fulfil his ambition to lead a country.
It is not just Sam's career ambitions that InXpress has helped to fulfil, though. One of the business' core values is to 'Gives Back'. Since being with InXpress, Sam has been part of their charity programmes across the world, including helping to build a school in Fiji, removing non-native weeds and pests from a mountain in New Zealand, spending time with orphans in India, meeting, talking and having fun with elderly homeless people in Vietnam, repairing a community centre in Orlando, US and leading a team who cleaned up a beach in Hong Kong last month.
Sam said:
"I don't think many companies have made such a difference globally, nor would I have had those experiences in such a short time – they give me a deep sense of satisfaction and gratefulness."
Working for InXpress has exposed Sam to many areas of business that large corporations wouldn't offer at an early stage, enabling him to develop his career and perform roles that would take years to reach in some organisations.
As Sam says:
"That exposure and insight has taught me a lot. When I think about my future with InXpress it brings a smile to my face because the opportunities are endless".
Find out more about the InXpress Young Guns programme by clicking below
What

Our Franchisees Say

I chose to franchise with InXpress because it's like someone's got their arm around you. I also liked the fact that you didn't need a lot to run the business. You can run it from home, an office or anywhere in the world as long as you've got an internet connection.Kully Sahota, Peterborough franchisee since October 2012

With InXpress you don't buy or sell stock so the business has low overheads and you don't lose money on damaged stock. You're selling the services of world branded products and it's much easier to sell DHL services than white van. E-commerce is booming at the moment because more and more people are now buying online.Craig Atkins, Reading franchisee since 2007

InXpress gives you a business concept and plan that you can run with. All you need is the right work ethic to deliver and make the business successful. There's a model in place so you don't have to reinvent the wheel – that was the biggest attraction for me.Lendy Mazur, Salisbury franchisee since February 2013
Why

Choose Us

No inventory, no warehousing, minimum overheads

Low entry cost

High income potential
Related

Franchise Categories
Related

Franchise Types