Agnes and Jonathan Goodall Joined Platinum Property Partners in March 2017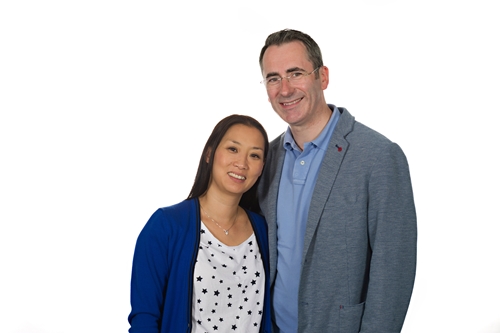 Joined Platinum Property Partners: March 2017
Previous Career: Corporate Finance
Portfolio Location: Teesside
HMOs: One
Biggest Benefit: Flexibility
A greater return from property than corporate life in Teesside. That was the goal for Agnes and Jonathan Goodall, the first Platinum Property Partners investing in Teesside.
Following a ten-year career break to bring up the couple's two children, Agnes was now eager to get back to work. But, after 18 months working part time in corporate finance, she realised it wasn't what she wanted to do. It just wasn't flexible enough.
Jonathan, who has been working back in the family warehousing and retail business for 11 years, after running a successful photography studio in London, suggested they go to a franchise exhibition.
Jonathan says:
"It was really to get ideas and inspiration; see what the next big thing was. Whilst there we came across a High Net Worth panel debate, where Paul Watson, franchise partner and Platinum mentor, was taking part."
It was enough to encourage the couple to talk to the team on the stand, and already having an interest in property and wowed by the HMO (Houses in Multiple Occupation) concept, they booked onto a Discovery Day the same month. However, their main concern was whether the model would work in Teesside.
Working closely with the team at the Platinum Head Office and speaking to nearby franchise partners in Newcastle and Warrington, Agnes and Jonathan were convinced they could build a profitable portfolio in their area. The only other reservation they had was the franchise fee.
Jonathan adds:
"We had the capital to do it ourselves, even if we ended up paying the price for a few mistakes. But we thought, why go through the pain of trying to learn it yourself when you have people who can teach you not just how to do it, but how to do it right?
We were also conscious of the pressure doing it on our own would put on us as a couple. Joining Platinum Property Partners would mean there'd always be information or someone available to help & support us."
They concluded that the fee was a positive thing and represented a barrier to entry that highlighted how difficult it would be to build a portfolio on your own.
The couple joined Platinum Property Partners in March 2017.
Their first property completed refurbishment at the end of January. What was originally a 4-bedroom semi-detached house is now a 6-bedroom HMO with four ensuites and one shared bathroom. The plan for the next five years is to build a portfolio of five HMOs generating a combined £70,000 annual gross profit.
Jonathan continues:
"Being part of a franchise, the burden is still yours. But with Platinum, all the benefits are yours too".
For Agnes, she has finally found the flexibility and enjoyment she was craving. She concludes:
"It's a business I have been able to build around the needs of the children and I'm setting a good example that there is an alternative to having a job. I'm certainly getting more value for my time and this value could go on for generations to come.
It's been fantastic, everything from the mentoring to the bootcamp, Foundation Lettings Course & Workshops have been brilliant. There's a lot of information to absorb but it's been a fun rollercoaster ride."
Find out more about Platinum Property Partners for yourself by clicking below
What

Our Franchisees Say

We can't imagine trying to navigate the uncertainty of the COVID-19 pandemic without the help and support of Platinum and the other Franchise Partners. Feeling part of this community is very special to us.Alex and Emma - Franchise Partners

No one can join PPP with all the necessary skills and experiences. You don't have to. You will be mentored to achieve things you don't know how to do regarding terms of purchasing property, refurbishing property, finding tenants and operating your houses.Mark Ridout - Franchise Partner

COVID-19 has really stress tested the model, we've seen it in action and it's given us confidence that it's really robust for the future.Paul Reynolds - Franchise Partner
Related

Franchise Categories
Related

Franchise Types