Revive! Franchise
Another Career Revived!
27th July 2009
They say every cloud has a silver lining and it's certainly true that the current recession is having a positive impact on the Franchise Industry with more and more people looking to shape their own destiny working for themselves but not by themselves...
Only six months ago Richard Williamson from Watford was working as a carpenter but worrying just how long he would keep his job. His company wasn't winning new contracts and as he became bored by having not enough to do he started looking at new horizons. What a short time in which to change your life. Within just a few short months at the end of May Richard was launching his new Revive! Franchise in the Watford Area. Here is a diary of Richards launch week.
Tuesday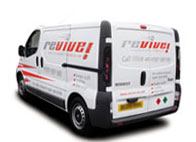 "As Monday was a bank holiday my official launch started today. Nervous but excited I visited a local Skoda dealer to meet an appointment lined up for me by Revive! UK. It felt very reassuring to have nine appointments already booked for me by the Revive! telesales staff, and knowing that I would have an experienced technician from Head Office with me for the week gave me further confidence. The dealer seemed very pleased to see me and had two cars ready for me to work on. I repaired one quite easy bumper scuff for free to show him what I could do and then invoiced him for the second job. The rest of the day was really meeting more potential customers and showing my face to get known but I finished with a sense of satisfaction that I was earning money from day one."
Wednesday
"What I day! I was asked to go into the local branch of a nationwide funeral service. This company have very high standards with regard to maintaining the look of their limos and hearses and Revive! UK have set up a national deal to help them with their fleet. I completed a full professional buff and polish on first a limo and then a hearse; turning my attentions then to another limo which had paintwork damage on the back bumper and the wheel arch which both needed repainting before the whole vehicle could then be polished."
Thursday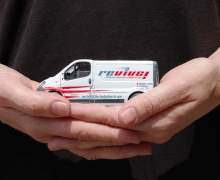 "Driving past a huge BMW dealership I was encouraged by Iain, the member of Revive! UK Staff who was my business mentor for the week, to pop in and introduce myself. A good chat with the Sales Manager revealed that they sell over 70 cars a month and that their existing Smart Repair supplier, a local independent, often couldn't meet their needs. I ended up repairing three separate cars there and then and have been invited to return there on Monday each week to tidy up cars on their pitch."
Friday
"Another cold call into a Mercedes dealer proved a hit when I was asked to repair a corner bumper of a sold car which was going out that afternoon."
Saturday
"Well I couldn't stay in bed when I had Monday off could I? The BMW dealer had another 3 cars that wouldn't wait until Monday so I went in and repaired two bumper corners and the mid section on a front bumper. All in all a brilliant week! Invoices issued totalled over £1,100 not a bad start for a brand new business even if I say so myself."
Highs
"The highlight of the week has got to be the BMW dealer welcoming me with open arms. I could argue it was a stroke of luck but I don't believe in coincidences and I have to say that it wouldn't have worked without the excellent training I had to get my work up to a high standard as well as the support of my launch mentor."
Lows
"The low happened two days before my launch when I found that my brand new van had been the victim of a hit and run driver who smashed into the side of the vehicle when it was parked overnight. To have your van in the body shop for your launch week is not an ideal scenario but Revive! UK were great, providing me with a temporary vehicle free of charge to get me started."
"The future I am absolutely delighted at the choice of Revive! as my franchisor and after their initial vetting process I cannot wait to prove myself to them by first establishing my business and then, say in a year or so, expanding my business by taking on a second van."
To find out more about Revive! franchise just click below to request your FREE franchise information pack

Revive! Franchise Case Studies