Management Franchises
There are lots of Management Franchises available in the UK, covering a great range of business sectors, but all requiring the management skills that are gained from years of experience in order for you to recruit, support and lead your staff and your business in the management franchise of your choice. WhiteCollarFranchise.co.uk can help you to identify, research and start the management franchise that suits you.

Get your management franchise working for you!
If you are looking to start a Management Franchise then its important to realise the range of roles that you will play in your business. You will be actively involved in all areas of your business from recruiting staff to training, stock control, finance, security, service levels and customer satisfaction.
You are heavily supported by your franchisor, as they need to ensure you have all the training, tools and supports in place to ensure you can always do a good job, as it is theor brand that is affected ig anything goes wrong. Therefore, when you invest in a management franchise, it is very much a two-way research process, as the franchisor needs to make sure that you are suited to their business as much as the business suits you
Investment levels in a management franchise are typically quite sizeable as if it is a management business franchise then there is often premises involved. Not always though. Many cleaning franchises for example, are managed from a home-based office but you manage a network of cleaners who areout delivering the services. Other management franchises, like estate agents, will use premises, whereas many management businesses in the Freight and Courier Services sector involved van-based mananagement opportunities.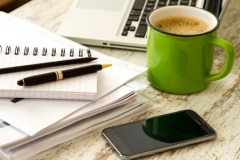 Banks provide plenty of assistance for people looking to start a management franchise with as much as 70% of the total start-up cost for the business being offered, subject to the business and personal circumstances.
If you are a good manager, you can get your management business working for you and then yo soon can be achiving the rewards that reflect your hard work, and you can reap the benefits from investing in a management franchise business.
Explore starting a business franchise opportunity today on WhiteCollarFranchise.co.uk by searching for a management franchise, and then you can request a FREE Franchise Information Pack on the Management franchise opportunities that interest you!