Executive Franchises and Business Opportunities
Are you tired of working hard for someone else's benefit?
Have you years of professional white collar business experience, but for all your skills and qualities, arent paid what you believe you are worth?
Then you should really consider an Executive Franchise, and here on WhiteCollarFranchise.co.uk, we have all the UK's leading executive franchises, ready and waiting for you to explore!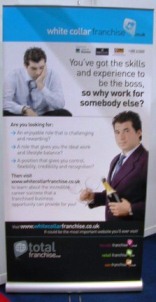 When WhiteCollarFranchise launched in April 2007, we used the Executive Franchise and Recruitment Exhibition as our launch event. With hundreds of executives being made redundant every month, very few knew that franchising held the opportunites that would utilise their skills and experience, and enable them to achieve their career and lifestyle goals.
We met dozens of frustrated professional business people, open to starting a business, yet they never realised that franchising offered executive franchises that could be exactly what they were looking for!
Executive Franchises - "More than fast food and coffee!"
We introduced hundreds of people to our clients, professional franchise opportunities, at that show, and since then thousands of people every month explore the world of executive franchising through WhiteCollarFranchises.co.uk. You can too, and when you do, you'll unlock a world of professional business opportunities that will utilise your skills, experience and network and enable you to earn what you are worth!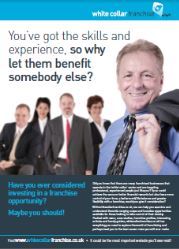 Check out the exciting array of franchise case studies to see great examples of what people are achieving who have been in the position that perhaps you are now.
With an executive business opportunity, you can combine your existing skills and experience with a professional business model, established brand and become part of an existing franchise network of like-minded people who are also achieving success in that franchise.
You get thorough training, and ongoing support, as the franchise is a working partnership that enables you, the franchisee, to achieve success in parallel with your franchisor. One party cant be successful without the other. In these 'White Collar' franchises, the network of fellow franchisees around you is vital to supporting you and gives you a massive advantage over non-franchised stand-alone competitors.
So, start searching now and if you 'follow the system' and work hard, you too can experience the satisfaction of running your own successful business. Control your own destiny with WhiteCollarFranchise.co.uk.