Introducing Your Biggest Support At dns accountants
When you join a franchise like dns accountants, not only you are investing in a business model designed to help you succeed, you're also part of a network of like-minded business owners. Franchising is all about being part of something bigger, giving you the ability to connect with the very best people the industry can offer. You'll be able to tap into all their experience and expertise, so you can grow your business with the full support of our expert team, every step of the way.
But, what does this look like in reality?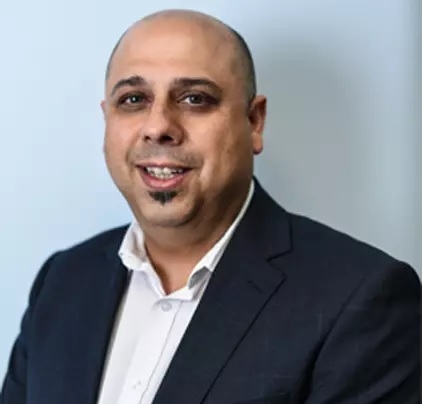 Well, allow us to introduce you to one of your key supporters in dns accountants, our Group Operations Manager, Gary Zouvani.
Gary has been a major player in dns accountants since 2014, and has had a key role in transforming us from a successful accountancy firm to one of the UK's leading accountancy practice franchises.
Having studied Business at Kingston University, before following-up with his accountancy qualifications, Gary went straight into working with a large telecoms firm. However, there was more to life than work, and Gary had a need to satisfy the wanderlust desire burning within him, so he took time out to travel and explore Australia and New Zealand. When he returned to the UK, Gary took on more of a consultancy role.
At the same time, dns accountants were winning "Best Online Accounting Firm" at the British Accountancy Awards, and had big plans to grow the brand using the franchising route. The firm knew they needed to bring in the best, and approached Gary to help them carry forward their vision.
As Gary says, "Put simply: I loved their ambition! dns accountants weren't the kind of company to sit back and be just another accountancy firm. They wanted to find the right way to to work more efficiently, and incorporate the use of technology to drive their advancement in accountancy."
Sounds great! But, what does this have to do with me?
We're glad you asked. Gary is one of the key people you will meet, as you come through the dns accountants' discovery process. Being someone who is passionate about the franchise, and the opportunities we're giving to people, like you, means Gary is someone to whom you can ask questions, whilst you explore dns accountants for your future. Then, once you have joined the network, Gary will still be there for you, along with his team. They will become your go-to for any questions, training, or support, as you start and as you grow your new franchise.
Gary explains why this personal element is an important aspect of what he does. "dns accountants have always been ahead of the curve, especially in terms of tech. But what really sets us apart is the personal touch. Clients love spending time with their accountants, which helps to build a great working relationship. This is one of the reasons why having a strong relationship with our franchisees is important to me. It's a mirroring-approach: With our help, you'll build rapport with business owners in your local community who use your services. In return, we make sure you can offer any service your client is likely to need, and will help you become a success."
But, I don't have the right experience
Some of our franchisees have considerable experience as accountants: having established themselves in a corporate practice, and want to step out and work for their own future; or they already have their own practice and bring it under the dns accountants' banner in order to establish strategic growth. However, there are also some who are starting out on their accountancy journey, and are benefitting from our franchise framework. So, whether you already have your qualifications, or are still studying for them, dns accountants can provide you with all the tools and knowledge you'll need thanks to our comprehensive training and support programmes.
As Gary explains, the dns Support Team are there for you. "If any one of our franchisees has any difficulties, they contact me straightaway, so I can help them problem-solve. This may involve using one of our experts. For example, we have external sales specialists guiding franchisees on how to manage their client relationships, and a trading manager to help them find business. Everything about our training and support is very well organised. I love managing my team and mentoring the newer members of the network, as they grow their portfolio of clients. I love being part of their journey. All our franchisees have come from different backgrounds and industries, so we're always bringing fresh thought ideas to the table – something you can't experience outside of our franchise!"
It's not all work, though… I want to perfect my work-life balance
Of course not! Starting your own practice is the ultimate way to take control of your day-to-day. When he is not living and breathing dns accountants, Gary loves nothing more than spending time with his two children, and the extended family. He's legendary for his barbecuing skills which, sources reliably inform us, is bigger than his dining table. He regularly hosts events for more than 30 of his nearest and dearest, including several very boisterous kids!
So, what would you do, with your spare time?
Is it time you cooked up a storm with your own accountancy firm? With the help of Gary and his team, there's no limit to what you can achieve.
Click below to request further information to see if the dns accountants franchise opportunity could be right for you
What

Our Franchisees Say

It is truly impressive to witness the specialised knowledge such a vast team can have and how they are genuinely there to help me.

In terms of flexibility, once again the dns value is apparent throughout. All the trainers are thorough in the areas they teach and also ensure whenever I need their assistance the solution is provided promptly.

My Franchisee training has been both effective and efficient. It has provided me with the necessary knowledge for running my business, both in terms of software and any technical knowledge that I may wish to review.
Why

Choose Us

Partner with dns accountancy Franchise and get full access to our own accountancy software, offering you an all-in-one solution

We offer 10 days of extensive training as well as ongoing support to ensure your knowledge always expands in all areas

Join the dns accountancy Franchise and be supported by a dedicated professional team who work with you to make your business aspirations a reality
Related

Franchise Categories
Related

Franchise Types