Martin McDonagh Took The Plunge with Ripples
2013 was the year that saw a brand new business venture for 34 year-old Martin McDonagh, in June that year the doors opened to his luxury bathroom showroom Ripples, one of the UK's leading bathroom retailers and a business franchise operation.

"It had always been my intention to start my own business", comments Martin, "I have always wanted to be in charge of my own destiny - after all, you spend such a large proportion of your life working, why not do it for yourself?"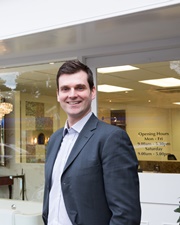 Martin McDonagh had previously worked for builders' and plumbers' merchant MP Moran, where he was running the Watford depot, covering bathrooms, kitchens, plumbing and general building materials, so it came as no surprise that a business operating in the bathroom industry would be of particular interest, Martin followed his passion and contacted MD of Ripples, Paul Crow.

"I'd known about Ripples for a while, and l loved the quality of products," Martin says. "In bathrooms, presentation is extremely important, and that's something that Ripples is very good at too."

Martin remarks on starting his own franchise business:
"It's a bold move to start a business of any kind so being a known entity able to negotiate trading terms with suppliers was a huge draw. The fact that you have goodwill from suppliers, as in they are willing to open credit accounts for you straight away, is amazing. You get help with PR and advertising. Franchising simplifies all the aspects of business ownership".

With successful Ripples showrooms in London and Essex, Martin felt that the Hertfordshire area was a great opportunity for the next Ripples franchise and after negotiating the lease, he signed on a property in Harpenden.

McDonagh set to work with his father, to refit the premises and after a grueling few weeks the showroom was ready for business. Thirteen displays now sit across the 1,2000 sq. ft. of the showroom, and it showcases the highest quality products and illustrates the design opportunities available to a customer should they wish for Ripples to design them a luxury bathroom in their own home.
While Martin, who has a degree in economics is in charge of running the business, his talented designer, Dena Kirby works with clients to produce them stunning hand-drawn bathroom designs.

With a successful three years under their belt, Martin and Dena are proving to be a great team:
"Our unique selling point is our hand-drawn designs, coupled with a very professional approach to dealing with our customers. We always communicate by letter, not by email, and when? we design, we will sit down for?a few hours with a customer, and? go and visit the site, before producing the drawings. Not many retailers invest that number of man-hours ?in each bathroom. People want more and more involved designs, with storage solutions and mood lighting, it is something we are very good at, and part of the complete service we offer."

On meeting Martin McDonagh what is clear is that he is dedicated to his own business and showroom but he is passionate and speaks very highly of the Ripples group as whole.

There are currently 12 UK Ripples showrooms and McDonagh comments about the Ripples group:
"It is difficult to start any business, but it would be a lot more difficult without being part of the Ripples franchise operation. Having the framework in place makes it a lot less stressful, because we have the safety net of an established supplier relationship, good guidance from the franchisor, help and advice on administration and accounting – the value of all that more than outweighs the fee."

Sales in the first three years have been hugely promising, with McDonagh smashing all of his sale targets and exceeding all expectations for a new business, this is one young entrepreneur with drive and determination and an eye for what works in business but what is clear is that with the support and advice from the Ripples group, this franchisee has a very exciting future ahead.
We asked Martin:

Why did you choose Ripples?
I made an enquiry and got to speak to HQ – they just had a similar outlook to me on business and what it takes. There are so many franchises out there but within the sector, Ripples have the niche market. People aren't always choosing to move home, they are choosing to upgrade; looking for quality product and that's what Ripples provide. In terms of my experience, this franchise just suited the mold.
Would you buy from Ripples again?
Yes I would. The business is a proven model and if you follow it there's absolutely no reason why you can't replicate the success of the other franchisees.
Top piece of advice for a new business owner?
Starting a new business can be a daunting experience, the rewards can be great but this comes with hard work and dedication. The framework of a well-established franchise model provides a safety net and ensures that you can concentrate on driving the business forward, establishing your business in a controlled environment and most importantly enjoying the experience.
Find out more about starting your own Ripples franchise by clicking below
What

Our Franchisees Say

Would I buy the franchise again? Yes! In fact I have 3 already.Colin Payne, Franchisee

Ripples franchisees have high margins because of our buying power. Much higher than the industry averages.Martin Hammond, Franchisee
Why

Choose Us

Industry leading gross profit margins

Multi award winning franchise

Proven franchise model for 20 years
Related

Franchise Categories
Related

Franchise Types