From Corporate Success to Community Triumph for James Goody and Merri Applegate
From corporate success to community triumph. James Goody and Merri Applegate have done what many can only dream of. Traded in gruelling, high-profile corporate roles to pursue their dream of owning their own business.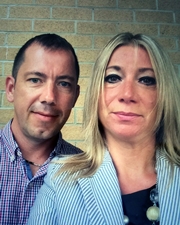 Their passion and commitment to helping the children in their local community has seen their Tutor Doctor business flourish. They now work with over 55 students in the local area.
James and Merri tell us:
"We always wanted to do something that makes a difference. Now we have the best of both worlds; a successful business, a sense of community and a real pride that we're giving our students the chance to achieve their dreams too."
James and Merri have been running Tutor Doctor in Colchester since October 2015, helping children to grow in confidence and ability. The couple thoroughly asses a child's needs and then carefully select the best-fit tutor based on goals, personality and learning level. Tutors visit students at home, at a time that is convenient for them.
A busy family life (four children between them!), their upcoming wedding and one or two dogs to boot means that this family doesn't sit still!
James and Merri continue:
"We live in a very close community. It's something that we love and one of the reasons why we knew Tutor Doctor would work for us too. The whole business is designed to be at the heart of the community – right where we want to be. We spend a lot of time socialising with friends, attending our children's school and club activities, out walking the dogs and James regularly watches his son's youth football team. The business strengthens that, it certainly doesn't detract from it."
Prior to starting their business, both Merri and James enjoyed highly successful careers at board level. Merri's impressive HR career spans various industries from food and retail to a global technology company where she worked as HR Director for more than 5 years. James' background in sales and marketing began in retail but thanks to his drive and skill, saw him quickly progress to regional manager for Dixons Group before accepting the role of Sales Director with a Global company.
Merri left her HR Director role in 2013 and explains:
"My priorities in life seemed to change, I felt, even at a senior level, I was not in control of my professional destiny and frankly I wasn't enjoying it as much, when previously I had always loved my job. On top of that my children had always been in full time childcare, either at day nurseries or with a nanny and I felt they were growing up fast and I was missing things. I wanted to be able to spend time with the children and be more involved in their schooling and activities."
When James's company embarked on a global restructure in 2014, he saw this as the perfect opportunity for change:
"From the very first day I started work I knew I wanted to run my own business. You get to the point that no matter how much someone pays you, you don't get the same satisfaction as you would working for yourself."
Together, Merri and James decided this was a chance to pursue a more fulfilling and community-based vocation that could also help them to achieve the work/life balance they craved.
They both acknowledge their combination of sales, marketing and HR lend themselves perfectly to their new business.
James tells us:
"Merri manages the tutors and I visit the clients in their homes, it's perfect! There's no doubt about it, when people touch the Tutor Doctor brand, they like it. Genuinely, when I sit in customer's homes they love the offering. It's fabulous; it's second to none!"
As you can no doubt imagine, this dynamic duo have some ambitious plans for the next two to five years but they are already well on track!
Merri says:
"If we continue to grow as quickly as we have so far then in the next six months we'll definitely be looking at taking on some staff. We want to be the go to service in Colchester and I see no reason why we can't achieve that."
James adds:
"Of course we want to earn a reasonable living but our rewards are also personal satisfaction as well as the financials. I often say that our highs are so high… it makes the thought of going back to corporate life impossible! We plan to expand, take on some staff and work closely with the local schools to make a real impact."
James and Merri are living proof that the transition from the corporate world to business ownership is not only possible, it's rewarding and profitable.
But what's the best thing about owning their business?
"For me it's reading the session reports. You get a bunch of reports through every evening and I love reading what the tutors are doing with students. Even if you've had a bad day, you sit down at the end of it and read all of these reports and when you can see the progress being made you can't help but feel good," says James.
And for Merri? "My favourite part is calling a customer after the first session and more often than not I ring and they say 'oh you beat me to it, I was going to call you and say how great it was!' I love that."
Find out how you can start your own Tutor Doctor franchise by clicking below