Mihir & Heena Patel Tutor Doctor, Loughton, Essex
Coming from business owner families, husband and wife, Mihir & Heena Patel wanted to follow in their families footsteps and work for a service which they owned themselves. Mihir has a strong IT background in VIP Executive Support within Investment Banking and his wife, Heena, held a position in HR specialising in redundancies and tribunals.
"My wife and I decided to start looking into businesses which we felt we could start on our own. We looked into IT orientated businesses which was easy for me to grasp however Heena found it a little tricky and vice-versa – the HR type of business was a little tricky for me to understand too. We needed to find a business which was neutral to both of us. We were introduced to a Franchise Consulting company, MatchPoint. They help find the right business for you, depending on your skill set and personality. This was very important, as most people can walk into a business that they already dislike, which can then lead to failure. Through the consultants, we started talking to Tutor Doctor in October 2010. Tutor Doctor was perfect for us, as it involves all enjoyable tasks from IT to HR but most importantly it helps to inspire the new generation of children and adults within the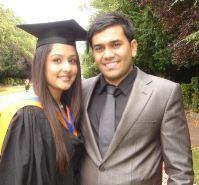 educational sector." says Mihir.
After speaking with MatchPoint and Tutor Doctor, Mihir and Heena decided this was the business for them and started their training. "Training was very well structured and presented in a nice timely manner. The training programme had 3 main stages; the first stage is a 50-hour self-paced online programme, followed by 6 intensive days in Toronto. A trip to Niagara Falls on the last day added a lovely conclusion towards the end to the on-site training. Finally, you receive 3 months of post-training, supported by a success coach that helps plan your activities in this very important initial period. The team were very helpful, they go above and beyond to help with any queries the team may have."
In 2011 Mihir and Heena opened their Tutor Doctor franchise in Loughton, Essex making them the youngest franchise owners for Tutor Doctor so far, with Mihir being 28 and Henna only 25! Both worked full time jobs whilst running their franchise. "This is easily achievable if your time management is up to scratch and have delegated resources"says Mihir. "If you have picked the right business, you don't see challenges as obstacles as its all passion, but if we were to pick one - probably trying to learn the names and faces of other franchisees as there are over 300 worldwide."
Seeing exam results, of children and adults alike, progressing from grade D's to grade A's, Mihir and Heena are very proud "This over rides any profit satisfaction, as it's your hard work that has produced these results. If you are a giving person, this truly is an enjoyable business that has many rewards, both profitable and job satisfaction. This is the only business where you truly get an opportunity to give back to the world; in helping student and adult's progress further in life."
With the success of their Tutor Doctor franchise, so far, Mihir and Heena are hoping to continue their success and go on to travel and own a further 2 or 3 territories in Florida – "The more you put in the more you get out!"
To find out more information about Tutor Doctor franchise click below

Why

Choose Us

Tutor Doctor franchisees benefit from the use of The Big Apple, a centralized customer relationship management (CRM) software system that assists with the ongoing coordination and management of the tutors. The Big Apple streamlines the client relationship process to increase the system's profitability.

Benefit from Tutor Doctor's successful one-on-one tutoring model that eliminates the need for high overhead costs associated with a traditional brick and mortar business.
Related

Franchise Categories
Related

Franchise Types