Andrew explains why he made this life changing decision to own a Doctor Franchise
Andrew & Christine Fowler - Franchise owners for Tutor Doctor in Cheshire.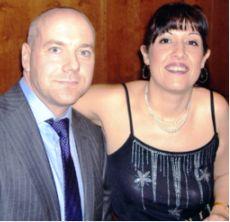 Andrew Fowler is a committed family man, married for 16 years with two teenage daughters, both with aspirations within education, the eldest is currently at university studying to become a teacher.
Being well educated, with a degree in engineering and several first class IT examinations, Andrew has been somewhat successful in his professional life and has set up and managed two companies prior to purchasing a Tutor Doctor franchise.
Andrew explains why he made this life changing decision, "I was so impressed with the high standard that I saw when we looked at becoming Tutor Doctor franchisees. What struck me the most was the level of professionalism and interest in its people, that the company both delivers and expects. Tutor Doctor exhibited a highly viable business opportunity in a sector that is very well respected and ethical. I felt that I wanted to share in that success, I wanted to be able to enjoy the kudos of being a business owner while delivering a hugely important product to my community".
For Andrew, the route to owning a tutoring business was founded by a belief that education is the cornerstone of success and achievement in the modern world.
"I really find inspiration from prominent business leaders and individuals who themselves are successful in their chosen fields. I also have great admiration, as well as huge respect for the incredible team of Tutor Doctor franchisees and support staff in our network."
The Fowlers business opened in May 2010 having signed the papers to become Tutor Doctor franchisees in February of that year. During the time they have been operating they have already accumulated a wealth of clients and covered a multitude of subjects and levels. Andrew is really excited by the business saying that within the first 18 months "Our customers now number in the 200 range, but this is an ever changing variable. We can gain as many as 15 new clients per month, and you just never know what you will be asked to do."
Being your own boss is something we all say we want to do, for Andrew it was always a dream he had while he worked hard for others. Andrew adds that, "What I really enjoy about being 'the boss' is the ability to shape my destiny. I really thought it would be about the flexibility it would give me, and while it really does offer flexibility it's not the main benefit."
"I really enjoy the challenge of running a business, dealing with clients, suppliers and other businesses. It's just so varied and each day is markedly different in that respect. Yes it's a challenge but one that offers great reward and self worth. When I do my job well and deliver a product that actually makes my customer so happy they just have to write and tell me, it's simply amazing."
Andrew obviously enjoys being part of Tutor Doctor, so what would he say to other prospective franchisees?
"You think to yourself, I did that! I made that happen, so I get all the credit. Self centered? Not at all, it's simply realising that I have really made a difference to another person. And that's something anybody really should be proud of."
To find out more about a Tutor Doctor Franchise just click below to request your FREE franchise information pack