Multi-Unit Franchise Partner Keeps Family Time A Priority
Throughout his career, Chris Wyle has always had a passion for helping people unlock their full potential. From delivering presentation skills training to becoming a six-territory franchise partner with Pitman Training, Chris's passion for training and development is evident.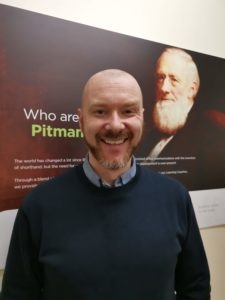 It was back in 2013 when Chris decided to help people on a more permanent basis and become the franchise partner for Pitman Training in Birmingham. The Pitman Training franchise is part of LaunchLife International, a global portfolio of educational franchise brands serving both the adult and children's markets. Not being content with just running one training centre, Chris has grown his own business portfolio to include six Pitman Training territories and recently became the UK's master franchisee for LaunchLife's children's tutoring brand, School is Easy.
"Joining Pitman was the perfect opportunity for me to help improve people's career prospects, gain promotions or help them get back into work. I'd heard positive things about the Pitman brand through a colleague who'd worked there before. So, after doing some research, I decided to invest in the Birmingham territory. It was too good an opportunity to miss. I'm now eight years down the line and would never had expected to also own the Cardiff, Nottingham, Leicester, Cambridge, Bishop Stortford and soon-to-open Sheffield centres when I started out."
Chris had initially thought that becoming a multi-unit franchise partner would see him working more than the usual full-time hours but he puts his great work-life balance down to the support of the Pitman team and his own amazing team too.
"I'm very focused on being a good dad, walking the dog and doing the school runs on both ends of the day. I'm also always home for breakfast and dinner as spending time with my family is massively important to me. The great work-life balance comes from having such a great team around me -- both from the people I employ, and the people Pitman employs. One thing I've found about being a franchise partner with Pitman is that you're in business for yourself but not by yourself. There's a level of comfort that you get because other people are involved in the same project. It's a real team effort, and even if you're a one-centre owner, you'll never feel alone."
Investing with an established brand
Pitman Training is the country's leading independent training provider, offering world-class office and IT skills in modern training centres to thousands of students across the UK and around the world. As a management franchise, franchise partners don't need any teaching experience as you recruit a team to support delivery of self-paced vocational courses, making a real difference to the lives of people in your local area.
"Aside from the flexibility of being a franchise partner, another driving factor for me to invest with Pitman was that they were such an established brand. This meant it was easier for me to attract clients and stand out in the education sector. When starting your own business, the unfortunate reality is that you have to invest so much time and effort in product development instead of sales and delivery. This makes it so difficult to turn a self-employed training gig into a job as you never get the chance to get your brand out there. Because of Pitman's already established reputation and great courses, I was able to focus my time engaging with potential customers and generating new business - something I wouldn't have been able to do if I'd started my own training business from scratch.
"Pitman has a very engaged managing director in the UK, making life a lot easier for franchise partners. Nothing is too much trouble when you ask a question and you're always positively listened too. Since LaunchLife International acquired the Pitman Training brand, the network has grown from strength to strength. LaunchLife has introduced new robust systems, like the MyPitman portal, which has helped develop how we do things in a really positive way. Because of the support and constant innovation, Pitman is a great brand and an enjoyable network to be part of. They understand that they can only be successful when we, the franchise partners, are successful."
Expanding business in multiple sectors
Chris' next goal is to expand his Pitman portfolio to 10 training centres and broaden the spectrum of training and education solutions he can offer.
"That's one of the reasons why I recently invested in the UK master franchise for School is Easy. Having a hand in both Pitman and School is Easy means our services can range from filling the demands of young students looking to take their first steps in the world of commerce, to meeting the needs of senior executives seeking board-level promotions.
"My advice for people thinking about becoming a franchise partner with Pitman would be that you should always look for multiple income streams. At Pitman Training, you can provide services to both private students and corporate clients, as well as supporting people through government-funded schemes. This is important if you want to be successful in your business, especially when certain market demand can fluctuate throughout the year. For example, when corporate sales go up, private acquisitions may go down. So, don't put all your eggs in one basket, and you will achieve consistent sales throughout the year."
Pitman Training has a 180-year heritage, making them the leading British training provider since 1837. With over 80 local training centres in the UK, Ireland, and internationally, they understand how to help individuals best run and market their locations.
For more information about Pitman Training and how you can become part of its prestigious franchise network, just click below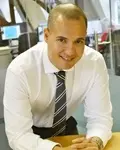 Andre Bedlow runs his Pitman Training business in Reading
Andre Bedlow tells us "Pitman Training offer a strong, recognisable brand with extensive support when you need it."
What

Our Franchisees Say

I've been able to help far more people than I ever could've dreamed of when I was working freelance. Head office provides us with sophisticated business management systems and marketing support. They're also always looking to develop the products we use to make sure there are various innovative ways for students to learn.Joy Renshaw, Pitman Training Brighton

"Joining Pitman was the perfect opportunity for me to help improve people's career prospects, gain promotions or help them get back into work. One thing I've found about being a franchise partner with Pitman is that you're in business for yourself but not by yourself. There's a level of comfort that you get because other people are involved in the same project, it's a real team effort.Chris Wyle, multi-unit franchise partner
Why

Choose Us

Globally renowned, well established training company

Support of a large, global franchise network

Mature franchisor
Related

Franchise Categories
Related

Franchise Types