Maid2Clean Franchise
Graeme Pirie on becoming a franchisee with Maid2Clean
21st March 2009
Maid2Clean franchisee Graeme Pirie, describes how he began to change his life and the support he received from Maid2Clean.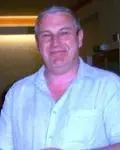 "I bought my franchise from Maid2Clean about 10 months ago, and launched the business 8 months ago.
Like many other people, I have been in "normal" employment all my life, but reached the point where I had enough of working long hours for other people – I wanted a better quality of life with more time for family, and I course I want the rewards of hard work for myself!
I looked at all sorts of franchise opportunities – and there's no shortage these days - it seems that almost anything can be franchised now!
Domestic cleaning seemed to be one thing that there will always be demand for as long as there's dust!
I looked at quite a few different franchisors but to be honest made my mind up during my first meeting with Elaine – who exudes enthusiasm for the Maid2Clean system.
There are lots of cleaning franchises, but Maid2Clean have a proven system that works, and the fees are very reasonable.
When I started looking around I had the mindset "how hard can this be?", I thought I would go for a look then consider just going it alone. But like any other business there's a morass of little but important things that need to be in place – all of this was provided by Elaine, meaning all I had to do was get on with it!
This is a people business, it's about organization, determination and people management.
After 8 months, I now have almost 100 clients and revenue around £3000 per month. Every month grows by around 20%.
There's plenty ups and downs of course but there's a great team of franchisees who meet at the conferences and freely share their experiences with each other whenever possible.
Have I done the right thing? Without a doubt!"
For more information about Maid2Clean, click the "Request Information" button below

Maid2Clean Franchise Case Studies