About Franchising
Essential Franchising FAQs
Q What is a franchise?
A There are different formats of franchising, but white collar franchise focuses on business-format franchising. This is essentially where an organisation has created a working business model and packages the complete business system, from its logos and marketing methodologies to its training and support structure, to be purchased by would-be franchisees, under a licence with various 'rules'. These rules, are to ensure that the franchisee operates their licensed business within the framework required by the franchisor, and also provide protection and strength of direction to the franchisee.
The Franchise Agreement, is the all-important document that discloses the arrangement by which the franchisee and franchisors relationship shall operate, and is therefore something that should be reviewed very carefully when considering purchasing a franchise. White collar franchise's Franchise Legal Expert Nina Moran-Watson explains the Franchise Agreement here.
Key Franchise Facts (source: Natwest/BFA Franchise Survey)
Annual Turnover of Franchise Industry
£10.3billion
Number of Franchise models available
759
Number of franchisee businesses in operation
30,800
Average Age of Franchisees
40-45
Average term of a franchisees operation
6.8 years
Total employed within franchised businesses
364,000
Number of franchises reporting profitability
92%
Average amount borrowed from bank in start-up
£40,000
Percentage of franchisees that are male
79%
Q What is White Collar Franchising?
A 'White Collar' is the term given to employment roles, business opportunities or people who operate in a professional business environment. The term 'white collar' arises from the professional images of the shirt, tie and jacketed individual who stands out by way of appearance in an environment such as a warehouse or factory where people in management positions are dressed as such to help identify them as being in a position of responsibility. In recent decades, with the growth of white collar service industries, increasing educational standards and associated expectations of achievement, the white collar environment accounts for pretty much anyone who's work is office-based.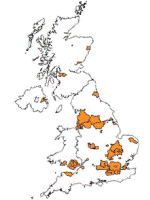 The white collar sector of franchising is perhaps the fastest growing as a result. Those people who have developed various operational skills in business, from finance, to people management, sales and general management, could utilise these skills in a white collar franchise opportunity. This site, whitecollarfranchise .co.uk , displays only the opportunities that would utilise and match the skills sets, experience and aspirations of an ambitious white collar professional, eager to obtain the results of their own hard work directly, rather than seeing the benefits of their labours go to their employers. There are many exciting careers to follow in white collar franchising!
Q Why does a business opt to franchise?
A Franchising represents a method of expansion that can enable a business to grow much more quickly than through natural expansion through turning profit into investment in new sites. By attracting investors to open up additional sites of the company, the balance of investment is coupled by the personal focus and resource delivered by the investor, the franchisee. A franchisee may operate with much greater drive and motivation than perhaps an employee operating in the same role.
The franchisee will receive the majority of the profit achieved through the local site operation, but the franchisor will also receive income from the operation (in addition to the franchise fee to begin with) and so both parties can really benefit. The biggest incentive for a company to franchise however, is the brand and company value that comes from being a nation-wide or even international brand that has been achieved through franchising against perhaps only becoming a regional sized operation through own reinvestment. As more and more companies realise the benefits of franchising, the biggest barrier to greater growth is the lack of awareness of franchising as a whole, very much a secret industry.
Q Why should you invest in a franchise?
A A franchise system offers a lower risk route into self-employment, and gives you a serious of benefits over conventional self employment. The Natwest/BFA survey of 2006 showed that over 90% of franchised businesses were still in operation after two years compared to only 20% of stand alone ventures, an amazing difference.
Of course, you will often pay more to start in a franchise than a non-franchised venture, but then you are receiving initial training, tools, materials, branding, experience and ongoing support and assistance. In addition, other franchisees of the franchisor and the franchisor themselves are all investing in the success of the brand and this collective determination is invaluable, and is missing when pursuing a personal venture. As a franchise develops, so it improves its training, support, systems and all other resources.
As a result of this, the initial fee will certainly be higher than other franchises, but the franchisee performance should equally be always growing as a result of the improvements too. So there are several factors to weigh-up. Yes, franchises are a route to give you the success that you are seeking, but only if you carefully find the right franchise to partner with. 'Partner' is certainly the correct term too, afterall, a good franchise model requires the franchisor and the franchisee to give and receive to one-another in order for both parties to be successful.
The resources throughout this white collar franchise site are designed to help you in finding the right white collar franchise to suit you, so please read them, and utilise the printable guides, you may find their assistance extremely beneficial throughout your franchise research.
Q What are the benefits of franchising to you?
A There is one simple benefit that stands out: You are more likely to achieve your objectives than with a non-franchised venture. This could mean a better work & lifestyle balance, more control over how you spend your time, greater flexibility in the type of work that you do and, perhaps most importantly for some, being personally rewarded for your own hard work rather than making good money for somebody else.
Explore white collar franchises and information available throughout whitecollarfranchise .co.uk and we wish you every success in starting your own white collar franchise.