Riverford Organic Farms Franchise
Organic Delivery Business
Riverford grow the vegetables, you grow your business
The Riverford Organic Farms Franchise is a leading Organic Delivery Business. They think that whatever you are looking for that their franchise opportunity ticks all the right boxes! You will be growing your own Organic Delivery Business, benefiting from all the support and enjoying fresh challenges.
What makes Riverford different?
The Riverford box scheme began when Guy Watson started delivering vegetables locally to 30 friends in Devon. Riverford now deliver around 47,000 boxes a week to homes around the UK from their regional farms.
Riverford is different – it's not just about the money. It is all about people and food - especially their shared passion for growing and eating fresh, seasonal, organic food.
The Riverford Organic Farms Franchise Opportunity:
As a franchise owner you will need to become the vital link between the Riverford farms and your customers. Riverford now has a dedicated network of around 56 franchisees who deliver seasonal organic tasty produce.
Riverford have seen sustained year-on-year growth in delivery numbers. It is a multi-award winning business and a full member of the BFA. Their franchisees are brand ambassadors across the country; building relationships with, and delivering to, thousands of loyal customers each week.
As Riverford has grown so has their product range. Fresh, seasonal organic veg is still their mainstay, but they're constantly sourcing new products from other artisan organic suppliers and have their own MeatBox Company, Farm Shops and Dairy.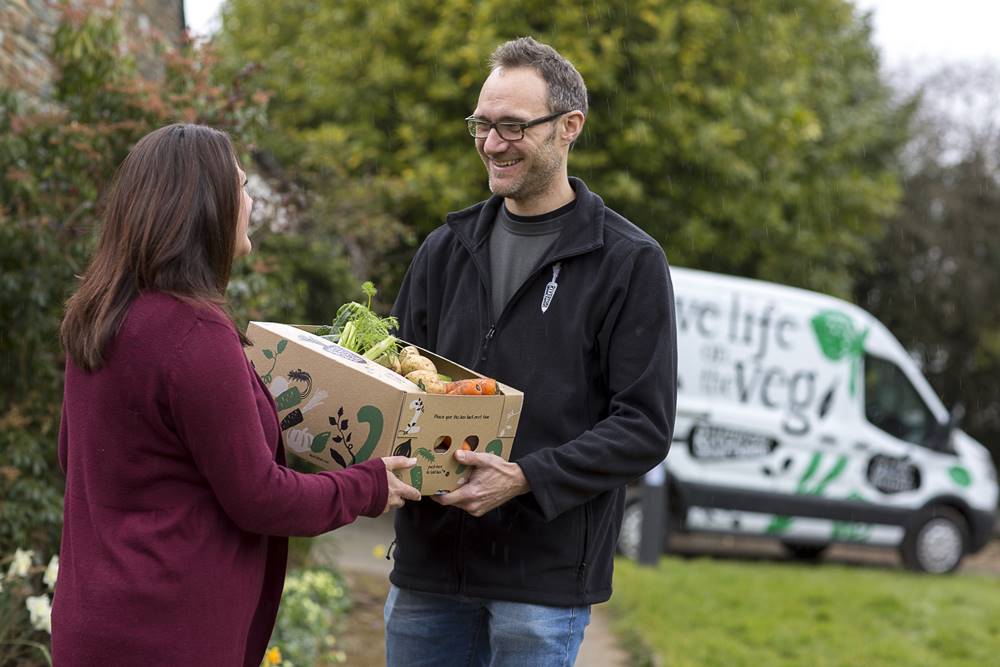 Aside from the fruit & veg, they offer an extensive range of:
RSPCA award-winning organic meat
scrumptious organic cheese
pickles
chutneys
cooked picnic range
quality produce
and much more
The full Riverford product range offers a heady mix to the discerning and ethical eater, and of course gives a major boost to the franchise owners' turnover. And bottom line profit.
What are Riverford looking for in a franchisee?
Riverford franchise owners come from all walks of life and backgrounds There are some key attributes that are essential though:
basic business understanding
sales & marketing skills
the ability to build and maintain strong customer relationships
You will need to be a real people person, someone who's happy meeting all sorts of customers in all sorts of situations. Great customer service and communication is key to running a successful Organic Delivery Business.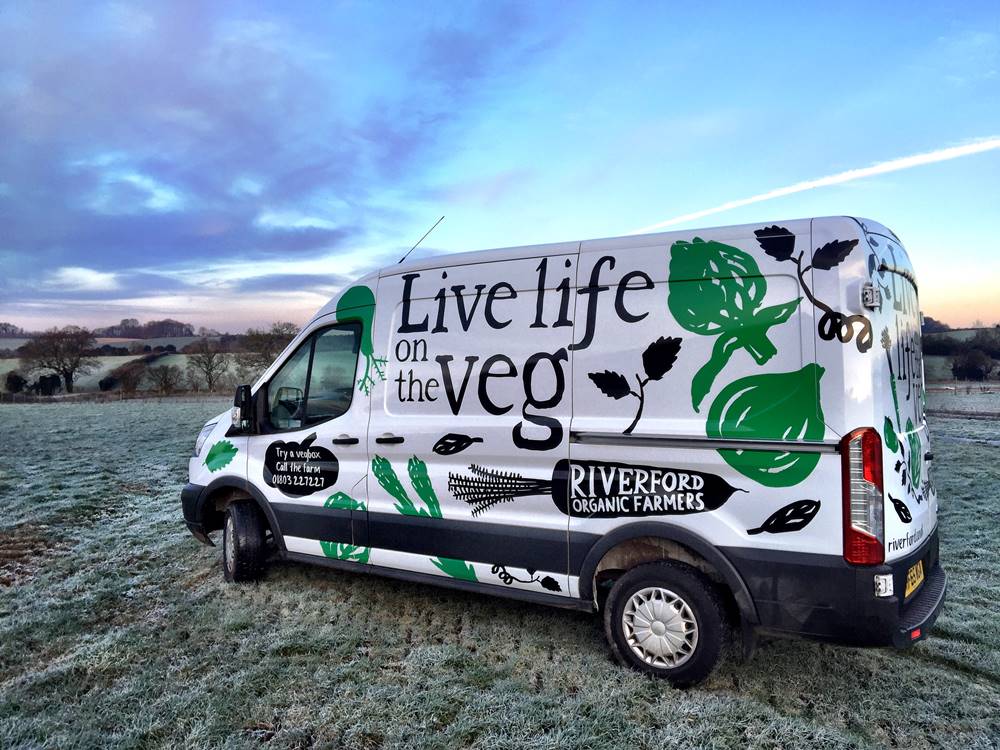 You'll need to be driven too. This can be a tough role and, although Riverford are there to help and support you, the day to day motivation will need to come from you.
You will also thrive on setting and meeting growth targets, working closely in partnership with Riverford to build a business you can both be proud of.
Last, but by no means least, you will have a passion for fruit and vegetables along with an interest in all things foodie and organic.
The most successful franchise owners have built their Organic Delivery Business from scratch to achieve a turnover of over £1million a year.
Franchisees of these bigger businesses tend to take more of a managerial role, but they like to keep their hand in at the coalface (i.e. on delivery rounds) by covering for their drivers' holidays.
What's a normal day like?
Early starts are the norm when you are out delivering; the days are quite long and there's plenty of fresh air and exercise, come rain, snow or shine.
Riverford pride themselves in seeing their deliveries to the door no matter what! This sort of thing distinguishes Riverford from the competition.
When you get back home or to your office, you'll need to complete some admin such as order processing, end of day banking, marketing, account management and answering customer's queries.
In the spring and summer, you'll be out at shows and local events at weekends, finding new customers and strengthening relationships with your existing customers. In short, you'll be wearing many different hats to grow your Organic Delivery Business.
The Riverford Support:
Your are never alone. All Riverford franchise owners are handpicked via an intensive recruitment system to make sure you are well suited to your franchise territory.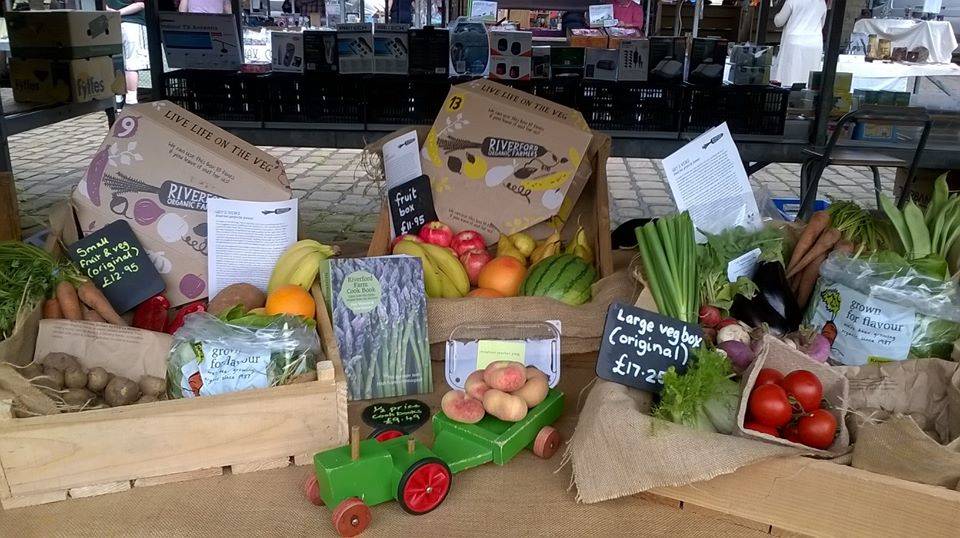 During this process, you will be encouraged to fully discover what life as a Riverford Organic Farms Franchise owner is like, and Riverford will help you compile comprehensive business plans to deliver your growth strategy.
The professional head office team will advise you how to research and set up the infrastructure to trade your Organic Delivery Business, and steer you through the legal process of buying a business.
Before you launch, you will receive comprehensive training to help you maximise every opportunity in your new Organic Delivery Business venture. Riverford covers everything from proven strategies for growth, business & marketing planning, and analyzing your customer database, to how to use Riverford's bespoke round management & order processing systems and face-to-face-sales techniques.
Once you are in place, the Riverford team will ensure you have the full support of their central teams for your first few critical weeks. After that, the Riverford Organic Farms Franchise regional sales development managers will work with you to help you deliver your business plan effectively, and to achieve your growth targets.
The Investment:
When you buy a Riverford territory, you are buying the exclusive rights to trade under the Riverford brand identity, and via the established Riverford model.
Riverford has a number of resale territories available around the country. These are established territories with a certified trading history and active customer base. The investment level will therefore vary according to location, delivery numbers and turnover. A list of available Riverford territories can be found under the 'resales' tab.
Prices are exclusive of Riverford's launch set up, marketing and training fee.
Which territories are available?
Resale territories:
Burton & Loughborough £60,000
Lancashire £65,000
Find out more about the Riverford Organic Farms Franchise, the leading Organic Delivery Business. Click below now!