New Branch Brings Leading Brand, Signs Express, to Swindon
9th March 2017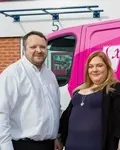 Chris and Kelly Seston, owners of Signs Express (Swindon)
The UK's leading signs and graphics company has announced that it has just opened a new branch in Swindon under the ownership of local husband and wife team Chris and Kelly Seston.

This brings the number of Signs Express branches up to 65 across the UK.
Chris Seston stated:
"Having worked for almost 20 years in an office manager capacity for the Royal Mail, I am really excited to be following my dream of owning my own business. My wife and I came across Signs Express when researching franchising and their offering was just too good to turn down. We are delighted to open a business in my home town and I am excited to introduce myself to new clients in the area."
Co-Director Chris will be taking on a sales-focussed role in the business, whilst Kelly will be taking on an office manager role, covering all basis to ensure that clients receive the best possible service.

Kelly commented:
"With a background in retail, where organisational skills and customer service were key, its ideal for me to run the unit, as Chris goes out to clients. This new venture is very exciting and we invite anyone who needs signage to pop in and say hello."
Boasting a completely refurbished production unit that is fully equipped with the latest in design, production and installation equipment, the team at Signs Express Swindon are prepared to offer an exhaustive range of signs and graphics to businesses both large and small. Specialising in vehicle graphics, interior and exterior signage, banners, window graphics, labels, stickers and DDA compliant health and safety signage, they are the one-stop-shop for any sign.
Signs Express Swindon is the franchise's third new branch to open this year, as part of its impressive growth plans.

Craig Brown, Signs Express Ltd's managing director, commented:
"We have ambitious plans for the expansion of our network and it is an excellent time to join us as a franchisee or employee. The sign and franchise industries have been showing year-on-year growth for almost a century and we are perfectly placed to leverage upon this. The addition of Chris, Kelly and their team to our network is very exciting and we wish them all the best with their plans for the business, which we will wholly support."
Find out more about the Signs Express franchise by clicking below to request your FREE franchise information pack