A National Brand Refresh is all in the Planning
28th February 2017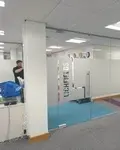 Lichfield Door Graphics by Signs Express
Signs Express, the UKs lead signs and graphics franchise, has helped to launch a dramatic brand refresh for well-known planning and development consultancy, Nathaniel Lichfield & Partners Ltd (NLP).
On 14th February, in a nod to its founder, NLP changed its trading name to 'Lichfields'. The move, which was in the pipeline for several months beforehand, was combined with a completely new vision for the company's corporate identity and meant that all eight of their offices had to be wholly refreshed – a job that was awarded to the UK and Ireland's leading signs and graphics company, Signs Express.
With the requirements stipulating that the refresh take place across the country simultaneously, ready for launch on the morning of the 14th February, Signs Express was the obvious choice with the company's network of 65 franchised businesses across the UK and Ireland. On the evening of the 13th February, seven Signs Express centres began installing all the various interior and exterior brandings that they had spent the previous weeks designing and printing.
Rick Nurse, Business Development Manager at Signs Express (Leeds), was first approached by Lichfields and subsequently co-ordinated the speedy roll-out of the signage across eight sites. Rick commented:
"One of the great benefits of being part of a network is the potential to work together and complete much larger projects that a lone signage company would not be able to manage. This was a momentous project for Lichfields and a great honour to be a part of it!"
The seven Signs Express' involved in the print and installation alongside Leeds were Falkirk, Manchester, Newcastle, Reading, Croydon and Cardiff. The network combined forces to remove and replace the existing signage simultaneously at Lichfield's offices up and down the country, creating a great surprise for employees when they turned up to work the next day. Following the company's recent shortlisting as the bfa's Franchisor of the Year Award, Signs Express is proving how advantageous franchising is for customers and business owners alike.
Rebecca Thomas, Associate Director (Graphic Design), stated:
"Rick was a pleasure to work with. He co-ordinated the production and installation seamlessly, whilst keeping in regular contact with us throughout the process so that we knew everything was on track. We have received very positive feedback on the work Signs Express completed for us."
Find out more about the Signs Express franchise by clicking below to request your FREE franchise information pack