Woodland Project Flourishes with Signs Express
31st January 2017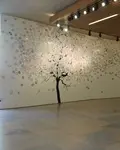 The Final Product
Signs Express, the UK's largest signs and graphics franchise, has been getting its hands dirty with the Woodland Project based in Lincolnshire helping to create over 2,500 bespoke leaves for a new art exhibition opening this month.
The initiative, birthchild of British painter and lecturer Christopher Wiles, has seen over 2,500 school children across Lincolnshire take part in an Arts Workshop programme that explores issues of growth, sustainability and biodiversity. Out of these workshops, every child made a miniature artwork in the form of a leaf and through the kindness of businesses and locals over 2,500 trees have been planted to create a new woodland in the heart of the county.
In January 2017, Christopher unveiled a Woodland Project Exhibition at The Collection in Lincoln, where every child's leaf artwork, which have been printed free of charge by Signs Express centres up and down the UK, will form the centerpiece. Eleven different Signs Express branches have been involved in the printing for the exhibition, including Lincoln, Sheffield, Grimsby, Peterborough, Nottingham, Doncaster, Harrogate, Chester, Central Lancashire, Hull and York. With Signs Express (Lincoln) also producing all the vinyl lettering and the trunk of the tree that all the leaves will be hung from.
Christopher stated:
"I have been lucky enough to have a number of companies sponsor various elements of The Woodland Project. It is really heartening to see how businesses, like Signs Express, are willing to support cultural and environmental projects such as mine, especially in the current economic climate. Small amounts of support can make a really big difference to artists and mean that we can engage members of our local communities in activities that otherwise wouldn't be able to take place."
It has long been a dream for Christopher, organiser of the entire event, to combine his passion for conservation and ecology with his vocation as an arts lecturer and he has not failed.
Richard Howes, owner of Signs Express (Lincoln) commented:
"We love working with local causes and this project has combined all elements of art, education and ecology, so we were more than happy to get involved. It has been excellent to see so many of the Signs Express network work together to make sure it is a success."
Signs Express is a 65 strong franchise network of signs and graphics production centres, who lead the industry in quality and customer service.
Find out more about franchise opportunities with Signs Express by clicking below to request your FREE franchise information pack