Riverford Turn Their Back on Single-Use Plastic
20th August 2018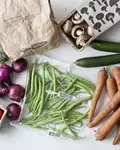 Riverford Organic Farmers have spent months intensely researching more sustainable packaging options for their veg boxes due to frustration with the state of nationwide recycling policies.
A survey completed by over 10,000 of their customers has revealed that 82.5% of them compost at home, either on a compost heap or in a food waste bin. As a result, Riverford committed to replace single-use plastic with home compostable packaging used in their veg boxes by the end of 2020.
Riverford's closed loop delivery model means that customers who can't compost at home will be able to return all packaging with their reusable veg box, they will then compost it on the farm and use the compost to grow their next crops.
A recent study against seven major supermarkets found that Riverford's three most popular veg boxes contained 77% less plastic packaging than the comparable supermarket organic veg. Riverford predict that this would be closer to 90% in winter, when produce is typically less perishable.
While their current plastic use is minimal, it's a necessary evil for the likes of salad, spinach and herbs, which would otherwise dehydrate in paper, causing food waste.
But with strong green credentials and as a business who always put ethical values before profit, it was decided that Riverford needed to address even the minimal amount of plastic they use.
Guy Singh-Watson, the outspoken farmer and entrepreneurial founder of Riverford, felt there was no other option with the current recycling policies in place by government:
"It is impossible for citizens or companies to instigate good packaging practices while every local authority has a different approach to kerbside collection. We desperately need an intelligent, long-term, national policy on what materials will be recycled, composted and incinerated or landfilled.
In the current vacuum, effort is being wasted on ill-informed company policies and headline-grabbing claims that will deliver little of value. To abandon policy to individual choices and market forces is an abdication of responsibility and a failure of government."
The packaging will be made from renewable, sustainable materials and will break down within 12 weeks in a home compostable environment, and also in marine environments, should it accidentally end up in the ocean.
"Although not a perfect solution, it is a huge improvement; we are doing our best in the world as we find it." says Guy.
Find out more about the Riverford Organic franchise by clicking below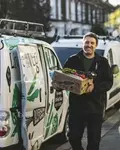 A Growing Organic Market for Riverford
19th February 2019
Business continues to look good for Riverford Organic Farmers and its network of franchisees, following the 2019 Soil Association Organic Market Report.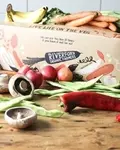 Riverford Takes a Chance With a Controversial Marketing Approach
25th October 2018
Riverford recently launched a controversial marketing campaign generating debate about food evils and promoting Riverford's credentials.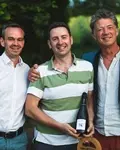 Riverford Annual Franchise Conference 2018
26th June 2018
Staff and franchisees gathered at Riverford's Wash Farm in Devon for their annual franchise conference.
What

Our Franchisees Say

It feels good to be investing in a company that has such a strong code of ethics and isn't all about making more money.Jo & Phil Limb, North Devon Home Delivery

Riverford franchisees have a level of independence that means we feel supported and not restricted.Liz Sowden, Dorking & Horsham Home delivery

Even during the toughest of times I don't think I have honestly ever regretted taking on my Riverford Franchise.Jim Harbridge, Portsmouth Home Delivery
Related

Franchise Categories
Related

Franchise Types