Riverford Organic Franchise
Riverford's quiet revolution – the decision to ditch discounts
5th December 2016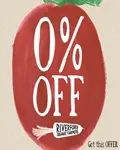 The organic farmers and veg box delivery teams at Riverford have had enough of discount marketing and in a bold new move have vowed never to offer anything to a new customer that they don't offer to existing ones.

To them, the key word is 'fair'. They believe in a fair day's pay for a fair day's growing. For almost 30 years Riverford have grown, sourced and delivered organic veg, meat and more to homes across England and South Wales via their network of franchisees. What they don't grow themselves, they get from small scale farmers and producers who they work with over the long term. Fair prices are set in stone at the beginning along with the commitment to buy from them often over a year in advance.

Founder Guy Watson advises:
"We have stopped offering discounts, stopped paying dubious companies to knock on doors, stopped using voucher sites and significantly cut back on leafleting and advertising. Instead we are concentrating on growing good veg, looking after our existing customers, and have taken all sales back in-house through our own staff who know and our veg and share our values."

This way of doing business is virtually unheard of in the industry, and provides farmers and suppliers with a level of income security and fair, stable payments that is a world away from how many other retailers operate.
Guy continues:
"I am convinced that most people, most of the time are happy to pay a fair price; what it costs to make something in a competent and efficient manner with due respect for people and the environment, plus a modest profit."

Riverford's new position on offers provides reassurance to their customers that a Riverford delivery means that the farmers, suppliers, staff and their franchisees are paid fairly, and that every customer is treated equally. No introductory offers, no inflated prices, just the occasional thank you gift for customers who are in it for the long run.
Guy concludes:
"This may all sound tame, but in an industry racing to the bottom, it is a quiet revolution."
Find out more about the Riverford Organic franchise by clicking below to request your FREE franchise information pack


Riverford Organic Franchise News