OMD Websites Franchise
OMD Websites UK Franchise
Website Solution Business

Become part of the fastest growing sector in advertising
OMD Websites franchise owners provide extremely cost effective website solutions to local businesses. This is a huge market which is just waiting for a call from a franchise owner with an offer too good to refuse!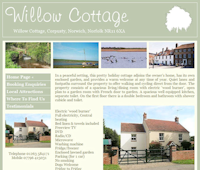 There are 100's, if not 1,000's, of businesses in your area still operating without a website or one which is not working for them. Consider all of the shops, tradesmen, one man bands and small businesses locally; these are your potential customers.
Existing customers agree that it really is a no-brainer to get a website from OMD Websites, with their no nonsense, honest pricing being a major selling point.
Having a local representative who can be attentive to their needs and on hand to answer any questions is key advantage over the competition; none of the "faceless person at the end of the phone".
No technical knowledge required!
All website creation and management is carried out by OMD Central so you do not need to be a computer whiz to manage this business. OMD Websites franchise owners are based at home and the hours are really flexible to fit around your lifestyle.
Your Income
There is an option for every business large or small. Franchise owners can provide the following packages:
Single page options start at just £259
A comprehensive 5-page website option with domain, search engine optimisation, hosting and creation from just £549
Businesses wishing to sell products online can opt for the OMD Websites' e-commerce solution from just £999
Renewal fees are due annually and franchise owners can enjoy residual income from the portfolio of websites they build. With a 95% typical renewal rate franchise owners can reap the rewards from previous sales again and again.
Add on services like email accounts and multiple domains help boost revenues year on year. There is an option for every business, large or small, maximising the opportunity for the OMD Websites owner to start generating revenue from day one.
Is this franchise for you?
OMD Websites is looking for people who are prepared to put in a lot of hard work, especially in the early days of their Website Solution Business. Attitude and a cheerful, friendly, positive and determined personality plus a high level of self-motivation are essential. Some experience in a sales or customer service related environment would also be helpful but certainly not a necessity. Full training and ongoing support are provided.
FREE Territories
All OMD Websites territories are FREE so what have you got to lose?
Find out more about the OMD Websites UK Franchise, the successful Website Solution Business.
Click the button below now!