A week in the (early) life of a Suit the City franchisee
Hear from Mike Lane, Bath Suit the City Franchisee as he talks about his working life in the early days.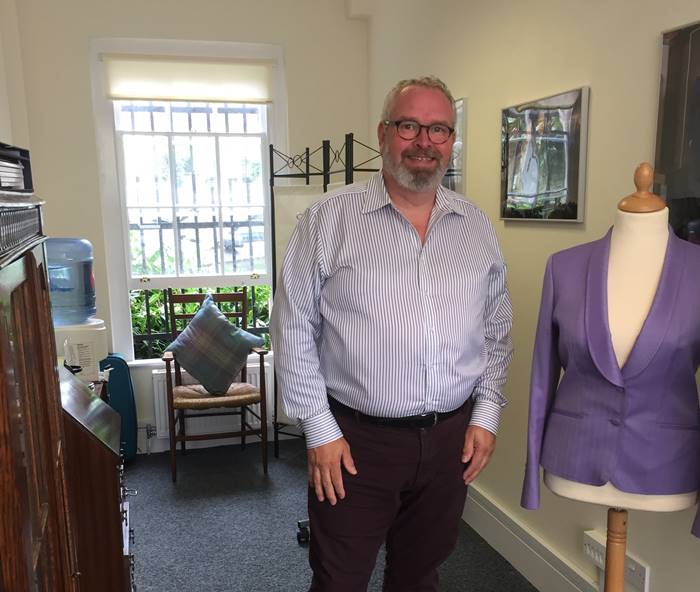 "It's been a whirlwind start to my new business. After the excellent training to get me ready to launch, it's been all about getting in front of as many people as possible… and there are certainly plenty of ways I've been doing that, as you'll read!
This dip into a week in my world shows me that my various marketing efforts are working, and so is my studio.
I must also say that the professional support that's been provided to me by Suit the City's directors, Carol and Sallie, has been invaluable in helping me already grow a strong client base.
Monday
Met with a new client for a suit fitting and measurements, and measured a referral customer shortly after. A few months ago I wouldn't have known where to start! But thanks to the training I've had, I'm now confident in professionally measuring people and discussing their style and goals. Order placed, good to have more business on the books!
In the evening I attended an event put on by a local upmarket shoe store that I'm working closely with, and generated several promising leads and an appointment for a suit fitting. I'm excited about what could come from this potential partnership. The business community in Bath is very close-knit and that's really helping me get word out.
Tuesday
The Bath Chronicle kindly covered the launch of my business, which Carol arranged, and today I took measurements from someone who'd seen the article – local PR in action! I then had the pleasure of delivering a suit and extra trousers to a client I picked up after he saw the studio signs a few weeks ago. He was really pleased with his garments and that's one of the best things about this business, seeing clients enjoy the finished product for the first time, looking good and feeling good.
Wednesday
A wedding suit and a professional suit, another good day! Today's clients came from a conversation at a wedding show, and another referral. Styled, measured and order placed for the wedding; and measurements taken for the second client ready for styling tomorrow.
Each client is different, and whether it's for work, a wedding or just for being at home, I love the variety in my business. It's so much more interesting than I remember office life being.
Thursday
Another delivery today with a stunning new suit finding its way to a client I picked up at a networking event. I've tried to do as much networking as possible, it's such a powerful way to reach more potential customers – not to mention, it's a rather fun way to find new business! Speaking of which…
Friday
At a business breakfast event today I picked up another couple of promising leads, a fine way to head towards the weekend. The afternoon saw me style and measure another client who'd seen the studio signs.
I was the first franchisee to operate from premises, which of course was a little bit of a risk, but one I was confident in. It's been really great to hear from clients who contacted me because they walked or drove past the sign, and to have somewhere so professional to meet and measure people has been excellent.
Friday night arrives at the end of a highly satisfying week, with my business really start to take shape now. I'm proving that the studio works and that the Suit the City model works – and that it can be replicated by anyone with the ambition and desire to put their future in their own hands.
Find out more about the Suit the City Franchise and click below now!