Bruce Murray – Awarded Expense Reduction Analysts Best Newcomer of the Year
In recognition of his outstandingly successful first year, Bruce was awarded Expense Reduction Analysts Best New Consultant of the Year.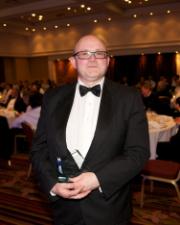 Bruce Murray is an absolute expert after spending 30 years in the print industry. He left his previous role as a director in a multi-national print services company to join Expense Reduction Analysts as he wanted to develop his career, have more control over his future and achieve a better work/life balance.
We asked Bruce how he would sum up his experience of joining the UK's most profitable Specialist Procurement Franchise.
"I am very pleased with how it is going so far. The network of Franchise Partners have become my clients. I have developed my relationship with other Expense Reduction Analysts Franchise Partners and they in turn have allowed me to work with their valuable customers. By delivering a good service to the end-clients, the level of trust really grows and so does my business as the pipeline of further projects flows from those relationships.
My target marketplace is companies with a £150,000-plus annual print spend," says Bruce. "In the last 12 months, I have achieved significant savings as well as quality and process improvements for a wide variety of organisations
My clients range from charities, housing associations, further education organisations, to some well-known sporting establishments. I am also working with both traditional and online retail companies with a large catalogue and direct mail spend, as well the traditional mix of commercial and manufacturing businesses. So business is varied, interesting and lucrative.
I have found that most companies cannot identify their true overall print and marketing spend, because it is made up of lots of small individual jobs, spread across multiple spend categories. With Expense Reduction Analysts, I review the whole process holistically, from creation to distribution with the clients and their suppliers to deliver significant cost and process improvements."
WHY I JOINED EXPENSE REDUCTION ANALYSTS
"After reviewing a number of career options, including other franchise operations, I quickly realised that the Expense Reduction Analysts network was the right one for me. It was something to which I could add value and which, in turn, would add value to me and my career.
The openness of the organisation in general and the Franchise Partners was very refreshing," says Bruce. "I immediately recognised that these were all very high calibre individuals, people with similar backgrounds, attitudes and ambitions to me – professional people that I could work with.
Based in the North East of Scotland and wanting to focus on my printing background, I knew I would have to communicate well and travel throughout the UK to make this work. I compiled a strong communication strategy that I could roll out throughout the network. I also attended many of the Expense Reduction Analysts regional team meetings throughout the UK to get myself known and build relationships that I knew would be vital to my success in Expense Reduction Analysts."
Bruce now sends out regular client facing print and marketing category bulletins and white papers, advising other Franchise partners on print and marketing related matters which they can use to target their own specific clients, campaigns or vertical markets.
Bruce concludes ""I can honestly say I am delighted with the award. It has been hard work but a deeply satisfying first year. With the help of Expense Reduction Analysts, I am well on the way to growing my own successful business."
If you are interested in finding out more about Expense Reduction Analysts then click on the button below to request your FREE franchise information pack

What

Our Franchisees Say

The business has given my family and me a better work/life balance and delivers a six figure income. I have made some great friends and it has enabled me to realise all my dreams in a very short space of time. I wish I had started this 10 years ago.Robert Stern

I have never regretted joining and I have enjoyed every minute of it. I would recommend it to anybody else.Adam Wheatley

I enjoy what I do and I earn a lot of money out of it and I think that is a very special thing to have. I have bought a holiday home in Spain and one of the Isle of Wight on the back of my business and now have more free time to spend on my passion for sailing.Derek Hodd
Why

Choose Us

A flexible business giving you control over your work/life balance

Build a business around your core skills and expertise

Huge earning potential where you profit directly from your hard work
Related

Franchise Categories
Related

Franchise Types