Kathy Bennett & Jason Cameron Tutor Doctor Franchisees
Medical doctors may no longer make house calls as a regular part of their daily routine, but for one new tutoring company, it is their lifeblood.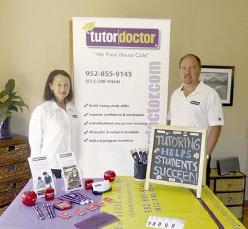 Husband and Wife team, Kathy and Jason, started their Tutor Doctor franchise in July 2011. Their 23-year-old son, Jason, and their 21-year-old daughter, Stacy, help in certain aspects of the business as well.
This really is a family business; Jason acts as their marketing director, as well as lending technological support. 23-year-old son, Jason, assists with administrative work and events, while 21-year-old daughter, Stacy, helps with the company website.
"We provide in-home, one-on-one tutoring services for all ages, in any subject," says Kathy
Kathy has more than 25 years of experience in the corporate airline industry, most recently managing large teams in airport operations and domestic revenue management. And prior to this, she acquired experience in marketing, sales and finance. She began looking into the Tutor Doctor franchise model in May 2011 and following a lot of serious thought and consideration, she decided to bite the bullet and venture into the world of franchise ownership.
"It was very scary because all I've ever known was my career with the airline," she said. "For me, I had to try something that would make a difference in my life and hopefully a difference in others."
Unlike traditional tutoring services that require parents to drive their children to yet another classroom, this service not only brings the tutoring to students' homes, but it also provides students help with their existing school curriculum while working one-on-one with an instructor.
Kathy goes to a family's home and does an assessment based on the needs of the family and the student. "We do a FREE assessment in reading, writing, spelling, and math to really find out what level the child is currently achieving" Following the assessment, she matches students with the most appropriate tutor available.
"I hire my tutors as independent contractors, many are either certified teachers or have an education background and considerable tutoring experience."
Kathy believes that education is extremely important for everyone and that tutoring is an investment in a child's education and future as a whole. She compares the tutoring concept to that of a personal trainer, who aids an athlete in performing at his or her absolute best. "I look at this the same way, the earlier you can correct a problem, the better."
The Tutor Doctor Network has thousands upon thousands of testimonials," she adds.
The type of tutoring offered through Tutor Doctor fills gaps in the performance of students. Kathy describes it as a building block process; if children are not knowledgeable in basic fundamentals, they are not going to perform as well at the next level.
Tutor Doctor provides tutoring in all subjects for all ages and abilities, "We even have space for special needs children as well," adds Kathy.
To find out more about Tutor Doctor franchise just click below