Revive! Franchise
From Tea Bags to Bentleys…Simon Chadderton, owner of Revive! Cheltenham & Gloucester
10th September 2009
Simon Chadderton, 29, became owner of Revive! Cheltenham & Gloucester in 2008 just about when the credit crunch was starting! He'd spent seven years working in a paper factory.
How and why did you get into franchising?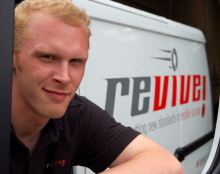 I'd been working in a paper mill for seven years in the Forest of Dean, making the paper used for teabags. It was reasonable money but the down side was continental shifts (twelve hours, four days on, four days off) it was a good way to pay the bills but very unrewarding, and after seven years I'd had enough.
My dad had suggested franchising after finishing college and a modern apprenticeship, but at the time I was young and it seemed too much of a responsibility for me.
Ten years later things had changed and I realised there was more to life than early mornings, unsocial shifts and a mundane factory job.
My dad John, 54, has always been very supportive – he's a brilliant person to fall back on when I need advice, having run his own successful business for the past 20 years. He also offered to put some working capital in to the business to get me started, so we went for it.
Why did you choose Revive!?
We did quite a bit of research over the next six months, looking at various different engineering related franchises. I'm a hands-on person, interested in cars and have always been good at practical things. We used this to guide our decision making.
We homed in on the SMART repair business and what Revive had to offer was really impressive. Revive seemed a good prospect for us as it offered work I'd be good at and enjoy, and a good investment prospect for my dad.
The thing that attracted me most to Revive! was the prospect of a large territory with 15+ postcodes and therefore the scope to grow into a multi van business. In the end there was little to compare to it.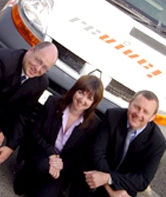 Revive! wanted business manager not just a painter in a van. They expect you to expand your business, take on staff with the possibility of managing up to five vans. I was buying into a business I could grow. If all goes to plan I hope to get three vans on the road within the next couple of years.
The whole team at Revive! were impressive too. The Managing Director Mark Llewellyn is very confident – he obviously knows what he's doing and the direction in which he is taking the business, which spreads throughout the company. I regard Mark as a mentor, a great source for advice, and I think the same goes for all that are part of the Revive network!
How did you get started?
The training at Revive! was brilliant. They only train a maximum of 2 people at a time so you receive in depth tuition.
We also learned on 'real customers' cars, not on dummy panels. I came out of it feeling very confident.
During my 4 weeks at the training centre in Rugby, Revive! completed a telesales campaign targeted at the list of dealers I had provided to them as part of my research. By the time I went to work, I had almost a full week of appointments for demonstrations! For my launch week, I also had the benefit of a technician from head office shadowing me. It was reassuring to have this support technically and also to give me some initial selling support toward winning a couple of early accounts.
How's it going? And what about the recession?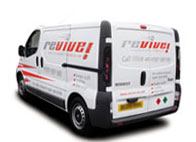 Looking back on it, I started at the wrong time of the year being at the end of the summer months – and at the start of a recession. The winter was difficult. After three weeks working outside in several inches of snow painting cars, I did wonder what on earth I was doing.
By February though, a milestone was reached. I had won an account with the Jaguar dealer in Cheltenham - HA Fox. Since then I also started to do work for Broughtons – of Cheltenham, the local Aston Martin / Bentley dealership and I've been going great guns ever since. I love to work with the prestige cars.
I'm now booked up to two weeks in advance. And already have my sights set on getting a second van!
As for the recession, it hasn't really affected me, partly because it's all I've ever known. In my first year, I've gained some good accounts, the business is working and profitable. In many ways I can't wait for the economy to recover. When people feel confident enough to start spending again, it can only get better and better.
Would you recommend a Revive! franchise?
Definitely. Taking on this franchise is the best thing I've ever done. Those boring teabag days are over.
What are your highs and lows?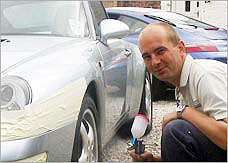 December was horrible! It was quiet. It was wet. It was cold. What I learned was that if this was the worst it got I was fine and in fact looking back on it by starting in the autumn I experienced the 'downside' quickly but wasn't put off. If anything the bad weather strengthened my determination to succeed and I achieved a respectable turnover for that month.
The best moment was winning business from the Bentley/Aston dealer - Broughtons in Cheltenham. From the moment I started my research and looked at the local dealerships, I wanted to be able to say I paint for Broughtons. And now I can! I went home on a high that night!
What advice would you offer to others thinking of taking on a franchise?
Do your research. And when you think you've done it, do a bit more. Taking on a franchise is a life-changing commitment and the more prepared you are for what's in store, the smoother it will be.
If you'd like to find out more about achieving self-employed success with Revive!, then click below to request your FREE franchise information pack

Revive! Franchise Case Studies