Bluebird Care Franchise
Bluebird Care (Mid Staffs) Rewards Excellence & Commitment
12th August 2010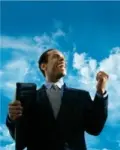 "We only employ exceptional people to work at Bluebird Care and Paula and Sam demonstrate the attributes required in their caring and professional manner." - John Milakovic, Bluebird Care
Bluebird Care (Mid Staffs) held a celebration and awards ceremony on Monday (June 21) by paying tribute to two outstanding members of staff.
Two care workers – Paula Bates and Sam Young – have been with the care-at-home business almost since it the company started, over three years ago.
Paula and Sam were presented with a bouquet and a buffet was provided for all staff during the celebrations at the office in Broad Street, Cannock.
Managing Director, John Milakovic, said, "We only employ exceptional people to work at Bluebird Care and Paula and Sam demonstrate the attributes required in their caring and professional manner. I would like to thank them for helping to make the company what it is today". All care workers were commended on the quality of their care and commitment to the company, which provides care services to people in their own homes in Cannock and surrounding areas."
To find out more about Bluebird Care simply complete the form below

Bluebird Care Franchise News