BCR Associates Franchise
BCR ASSOCIATES BOASTS GROWING STRENGTH IN TELECOMS SECTOR
16th June 2011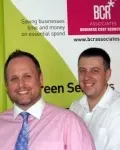 BCR Associates, the cost reduction franchise that is blazing a trail in the buoyant business cost reduction sector has once again proved its strength and expertise in the telecoms sector by being recognised by the Gamma network (Uniworld) as their second largest growth channel partner.
BCR Associates, whose franchisees operate as independents, saving customers millions of pounds by slashing core running expenses and negotiating the very best deals, has also been acknowledged by Uniworld as a member of its exclusive Elite club, in recognition of the company's continued commitment to the telecoms sector. With over 400 partners operating in the telecoms sector, BCR Associates, which deals with a number of carefully selected telecoms suppliers, consistently delivers an impressive volume of savings, clearly underpining its role as a key industry leader within the highly competitive cost reduction market.
The growing importance of the telecoms sector within BCR Associates' extensive portfolio of cost reduction services, has led to the expansion of the specialist telecoms team which supports the franchisee network. Martin Robbins joins the business having previously worked for Vodafone and will bring a wealth of experience in determining the best mobile phone deals for BCR Associates customers. Martin's appointment will strengthen the current dedicated telecoms resource which comprises Andy Strong who is responsible for landlines and broadband and Richard Thomas, who as telecoms director, heads up the division.
Commenting on the acknowledgement, Richard Thomas says "It was a pleasant surprise to be recognised by one of our supply panel in this way. Our main aim is to meet our clients' needs to reduce costs and increase service levels and performance, if this leads to such recognition it is a very positive reflection on our business.
I believe BCR Associates success is down to the industry intelligence and sheer resource delivered by our specialist team, which enables them to identify the very best tariffs and contracts for our clients. The BCR Associates franchise network continues to outperform its competitors in terms of securing phenomenal savings for its customers in relation to reducing their telecoms services costs.
We retain a 100% independent approach and given the growing portfolio of clients keen to benefit from BCR Associates' proven expertise in reducing essential running costs, we naturally generate significant sales for any of the main players in the telecoms sector, especially those offering financially attractive deals for the business community".
To find out more information about BCR Associates simply complete the form

BCR Associates Franchise News