BCR Associates Franchise
COST REDUCTION BUSINESS REPORTS RAPID RESPONSE TO DISCOVERY DAY INITIATIVE
31st May 2011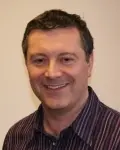 Just three months after attending a Discovery Day event in London, two new franchisees have been appointed to the highly successful BCR Associates cost reduction franchise network.
Julian Strutt from Berkshire, joins the BCR Associates network following a 34 year career in freight forwarding and logistics / supply chain. Michael Geduld, from Hertfordshire boasts a background in indemnity insurance and financial services. Both franchisees have previous experience of running their own businesses but were looking for a new opportunity where they could apply their proven entrepreneurial flair and established managerial / consultancy expertise, but in an enterprise which would provide an enhanced work / life balance.
The BCR Associates franchise, was first launched in 2009 and has been effectively road tested over an 18 month period by two foundation franchisees. Three further franchisees joined the network in 2010 and Julian and Michael's appointment brings the current total number of BCR Associates offices to seven.
"Whilst I was instantly impressed by the genuine six figure earning potential represented by the franchise, of more importance to me was the fact that I was buying into a recession proof market sector with the potential to develop a business which could deliver residual incomes streams as well as monthly commissions. And a further key consideration was the desire to identify a business which would enable me to adopt a more flexible working regime" said Julian.
"With a background in financial services, I had a natural affinity with the cost reduction market but the BCR Associates business model demonstrated a win- win proposition to clients with its access to exclusive rates and tariffs, free of charge, no obligation reviews and the fact that 100% of all savings are passed on to the client. Armed with this information, no client prospect can fail to be impressed by such a quick and easy route to improved profitability" comments Michael.
On average, customers working with BCR Associates can expect to reduce their running costs by 27% and the company has saved its clients millions of pounds as a result of identifying new reputable suppliers and accessing preferential tariff arrangements across a portfolio of sectors: electricity, gas, telecoms, insurance, staff, water, finance, vehicle, rateable values and green services.
Commenting on the new appointments, franchise recruitment manager Phil Gaffer says "We have been delighted with the positive and enthusiastic response to the BCR Associates franchise since its launch. Given the time invested in fine-tuning the business model and charting the progress of the company's foundation franchisees, we are confident in the franchise's ability to genuinely deliver a highly profitable and fulfilling business opportunity operating in a booming market sector.
Our 120 day training package is designed to ensure new recruits to the network are able to hit the ground running and we have also increased the resource at head office to provide further access to a dedicated and proficient support team which is always on hand to provide guidance and bespoke mentoring to all BCR Associates franchisees".
To find out more information on BCR Associates Franchise simply complete the form below

BCR Associates Franchise News