SureCare Franchise
Surecare Franchise: Grand Opening A Snip
9th August 2009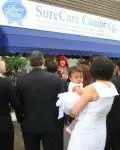 "This Latest Surecare Healthcare Franchisee, is testiment to our commitment in our franchise opportunity", Surecare
BBC radio presenter, Sue Marchant took time off from the turntables to snip the ribbon at the grand opening ceremony of a new local domiciliary care franchisee company.
After months of hard work and planning, the directors of SureCare (Cambridge), Joseph Garcia and Jorge Sacramento finally opened the doors of their care business to the public. Ms Marchant, who cares for her elderly mother, readily accepted the invitation to attend the grand opening and described their dedication and commitment to care as 'a subject close to her heart'.
Both directors have medical backgrounds gaining degrees in their native Philippines before continuing their careers in the UK. Amongst the services the new company will be providing is domiciliary care which assists the elderly and infirm to maintain their independence in the comfort and familiar surroundings of their own home.
After the ribbon cutting, parish priest, the Reverend Monsignor Eugene Harkness blessed the offices and then joined family, friends, service users and guests from local authority and social services for a traditional Filipino feast.
To find out more about starting your own Surecare management franchise, click on the 'Request Information' button below.

SureCare Franchise News