SureCare Franchise
Chinese Delegation visit Bath
1st December 2010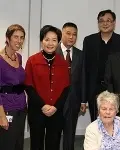 SureCare owner, Shelley Saxon, welcomed a delegation of Chinese officials to her offices to discuss her innovative approach to enabling and care of people living with sensory impairment, long term illness and changing abilities.
The delegation included the Deputy Mayor, ministers and health officials from The Qingpu District of Shanghai. They learned about the services offered by Shelley's company, SureCare Enabling (Bath & Mendips), from her website and immediately set up the fact finding meeting to see how her methods of Enabling could transfer and influence the services given to the people of The Qingpu District.
During the presentation, officials had the opportunity to meet Alison Bruce Head of the Sensory Team for BaNES and several of SureCare's service users including Bryan Kite and his mother Shirley and Evelyn Reed and her daughter Marion, who currently benefit from the company's enabling services.
Speaking through an interpreter, Director of Ministry of Civil Affairs, Qiaolin Jin said: "We welcome the opportunity to meet with service users from the UK and offer our thanks to Shelley for agreeing to enlighten us with her Enabling methods. We take many ideas with us and have extended an invitation to Shelley and very much look forward to welcoming her to Shanghai to further our studies into care and Enabling techniques"
The delegation will spend five days in the UK and before leaving the SureCare offices in Walcot Street they were presented with gifts made from local Bath glass.
To find out further information about SureCare simply complete the form below

SureCare Franchise News