SureCare Franchise
DIGNITY IN CARE AWARD GOES TO SURECARE
30th November 2010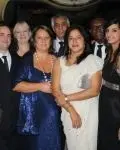 "The support we offer to our network of franchises extends well beyond the set up of their business so we take great pride in their successes" - Lorna Lyons Smith, SureCare
Community carer, Nelson Sibanda has scooped The Dignity in Care Award at this year's Great East of England Care Awards.
The glittering ceremony was held at The Imperial War Museum in Duxford where awards were presented in 15 categories that cover all aspects of care.
Nelson has worked for SureCare (Southend) for 6 years and is highly respected by both services users and colleagues according to owner, Mrs Manjit Bassi. She said: "Nelson is an exceptional carer and his award is well deserved". Four further staff from SureCare (Southend) were also shortlisted finalists in The Care Trainer Award and Care Team Award.
Joint owner of SureCare (Cambridge), Jorge Sacramento, narrowly missed out on the Registered Managers Award for which he was nominated and shortlisted. Last year, Angela Gilchrist from SureCare (Hereford) was also nominated and shortlisted for the Registered Manager Award.
Lorna Lyons Smith, Operations Director for SureCare Community Services said: "We were delighted for the franchisees that received nominations and of course very pleased for Nelson. The support we offer to our network of franchises extends well beyond the set up of their business so we take great pride in their successes – their success is our success."
To find out more about SureCare Franchise
simply complete the form below

SureCare Franchise News