SureCare Franchise
MP SUPPORTS LOCAL BUSINESS LAUNCH
14th September 2010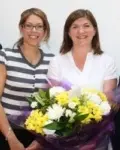 Keeping her pledge to support local business, Loughborough MP, Nicky Morgan took time out of her busy schedule last week to speak at the launch of a new Loughborough based care company.
Directors, Kalpesh Gokal and Yogesh Patel, launched the new company, SureCare (Charnwood & Rushcliffe), to provide domiciliary care to Loughborough and surrounding villages including Rushcliffe. The company also specializes in the provision and support of Telecare products such as monitors, personal alarms and pill dispensers which have proven to be effective tools in the supply of social care.
In her speech to invited guests that included representatives from the Multiple Sclerosis Society, All Saints Ministry to the elderly, Shree Ram Krishna Community Project and Charnwood Lifeline, Nicky Morgan recognized the importance of allowing individuals real choice in the provision of their care.
She stated that people are living longer and that there are increasing numbers of older people that want more freedom and control of how they want to live their lives. For many, that choice is to remain in their own homes to receive the kind of care that empowers them to continue an independent life style. She said: "I wish SureCare (Charnwood & Rushcliffe) every success. We know we have an ageing population and that cases of dementia are, sadly, increasing. People do want to live in their own homes, with support, for as long as possible and I believe the SureCare model will allow that independence. I am also delighted that this new local business will be providing employment opportunities and it is great to see new businesses being set up – a thriving private sector is vital for our economic recovery."
Registered Manager for SureCare, Michelle Davies has been working closely with Jobcentre Plus to fulfil the employment opportunities the new company has created. She said: "To enable us to be flexible, SureCare requires a large pool of staff. If anyone is considering a career in care they can call in to our offices in the Ark Business Centre or contact Jobcentre Plus."
To find out more information about SureCare simply complete the form below

SureCare Franchise News